Mercedes Benz Sprinter Lease
Check out our latest Mercedes Benz SPRINTER leasing and contract hire deals below.
Mercedes Benz SPRINTER 211CDI L1 DIESEL FWD
3.0t H1 Van
Only £287.99 pm Ex VAT
Fuel

Diesel

Transmission

Manual

MPG

0.00

0-62mph

secs

Top Speed

mph

C02

0 g/km

BHP

Torque

lbs/f

P11D

0%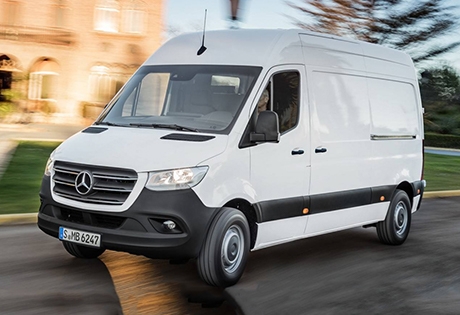 Superb Fuel Efficiency
The Mercedes Sprinter offers greater fuel efficiency than ever with a switch to a front wheel drive system.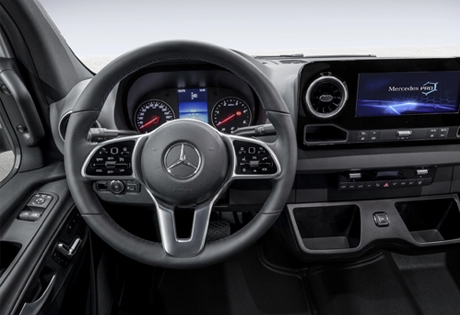 Upmarket Interior
The Mercedes Sprinter features one of the most technologically advanced and upmarket commercial interiors.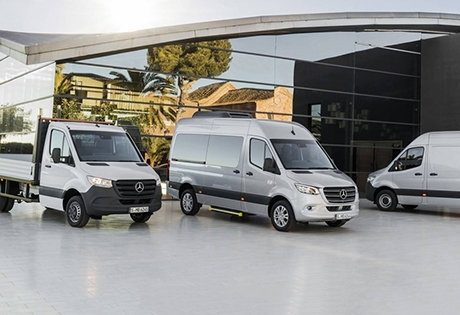 Versatile Range
The Mercedes Sprinter is available in numerous configurations as a panel, crew, chassis or dropside.
Need help choosing the right deal?
Call us on
0118 983 8020

Mon - Fri, 9am - 5:30pm
Filter Models Need help choosing the right deal? Call us on 0118 983 8020
Derivative
24 Months
36 Months
48 Months
60 Months
View
Compare

SPRINTER 211CDI L1 DIESEL FWD

3.0t H1 Van

Call Us

£399.99pm

£354.99pm

£339.99pm

£312.99pm

£302.99pm

£287.99pm

Call Us

View

details

SPRINTER 214CDI L1 DIESEL FWD

3.0t H1 Van

Call Us

£399.99pm

£356.99pm

£341.99pm

£314.99pm

£304.99pm

£290.99pm

Call Us

View

details

SPRINTER 311CDI L1 DIESEL FWD

3.5t H1 Van

Call Us

£387.99pm

£360.99pm

£338.99pm

£317.99pm

£305.99pm

£293.99pm

Call Us

View

details

SPRINTER 314CDI L1 DIESEL FWD

3.5t H1 Van

Call Us

£387.99pm

£362.99pm

£338.99pm

£320.99pm

£307.99pm

£296.99pm

Call Us

View

details

SPRINTER 211CDI L1 DIESEL FWD

3.0t H2 Van

Call Us

£421.99pm

£372.99pm

£357.99pm

£327.99pm

£317.99pm

£300.99pm

Call Us

View

details

SPRINTER 211CDI L2 DIESEL FWD

3.0t H1 Van

Call Us

£430.99pm

£372.99pm

£362.99pm

£328.99pm

£322.99pm

£301.99pm

Call Us

View

details

SPRINTER 214CDI L1 DIESEL FWD

3.0t H2 Van

Call Us

£422.99pm

£375.99pm

£359.99pm

£330.99pm

£315.99pm

£303.99pm

Call Us

View

details

SPRINTER 214CDI L2 DIESEL FWD

3.0t H1 Van

Call Us

£430.99pm

£374.99pm

£364.99pm

£331.99pm

£323.99pm

£304.99pm

Call Us

View

details

SPRINTER 311CDI L1 DIESEL FWD

3.5t H2 Van

Call Us

£408.99pm

£377.99pm

£354.99pm

£331.99pm

£318.99pm

£306.99pm

Call Us

View

details

SPRINTER 311CDI L2 DIESEL FWD

3.5t H1 Van

Call Us

£417.99pm

£375.99pm

£359.99pm

£330.99pm

£322.99pm

£306.99pm

Call Us

View

details

SPRINTER 211CDI L1 DIESEL FWD

3.0t H1 Van 9G-Tronic

Call Us

£428.99pm

£380.99pm

£363.99pm

£334.99pm

£323.99pm

£307.99pm

Call Us

View

details

SPRINTER 314CDI L2 DIESEL FWD

3.5t H1 Van

Call Us

£416.99pm

£377.99pm

£360.99pm

£332.99pm

£324.99pm

£309.99pm

Call Us

View

details

SPRINTER 314CDI L1 DIESEL FWD

3.5t H2 Van

Call Us

£406.99pm

£379.99pm

£354.99pm

£332.99pm

£320.99pm

£309.99pm

Call Us

View

details

SPRINTER 214CDI L1 DIESEL FWD

3.0t H1 Van 9G-Tronic

Call Us

£428.99pm

£381.99pm

£364.99pm

£337.99pm

£325.99pm

£310.99pm

Call Us

View

details

SPRINTER 311CDI L1 DIESEL FWD

3.5t H1 Van 9G-Tronic

Call Us

£411.99pm

£383.99pm

£359.99pm

£337.99pm

£323.99pm

£312.99pm

Call Us

View

details

SPRINTER 314CDI L1 DIESEL FWD

3.5t H1 Van 9G-Tronic

Call Us

£411.99pm

£385.99pm

£360.99pm

£338.99pm

£325.99pm

£313.99pm

Call Us

View

details

SPRINTER 211CDI L2 DIESEL FWD

3.0t H2 Van

Call Us

£453.99pm

£389.99pm

£380.99pm

£344.99pm

£336.99pm

£314.99pm

Call Us

View

details

SPRINTER 214CDI L2 DIESEL FWD

3.0t H2 Van

Call Us

£453.99pm

£393.99pm

£382.99pm

£346.99pm

£335.99pm

£317.99pm

Call Us

View

details

SPRINTER 311CDI L2 DIESEL FWD

3.5t H2 Van

Call Us

£437.99pm

£392.99pm

£375.99pm

£344.99pm

£336.99pm

£318.99pm

Call Us

View

details

SPRINTER 211CDI L1 DIESEL FWD

3.0t H2 Van 9G-Tronic

Call Us

£451.99pm

£397.99pm

£381.99pm

£350.99pm

£338.99pm

£320.99pm

Call Us

View

details

SPRINTER 211CDI L2 DIESEL FWD

3.0t H1 Van 9G-Tronic

Call Us

£459.99pm

£397.99pm

£387.99pm

£350.99pm

£343.99pm

£321.99pm

Call Us

View

details

SPRINTER 314CDI L2 DIESEL FWD

3.5t H2 Van

Call Us

£437.99pm

£393.99pm

£375.99pm

£346.99pm

£337.99pm

£321.99pm

Call Us

View

details

SPRINTER 214CDI L1 DIESEL FWD

3.0t Dropside

Call Us

£426.99pm

£516.99pm

£364.99pm

£450.99pm

£322.99pm

£407.99pm

Call Us

View

details

SPRINTER 311CDI L2 DIESEL FWD

3.5t H1 Van 9G-Tronic

Call Us

£441.99pm

£397.99pm

£379.99pm

£349.99pm

£341.99pm

£323.99pm

Call Us

View

details

SPRINTER 214CDI L1 DIESEL FWD

3.0t H2 Van 9G-Tronic

Call Us

£451.99pm

£401.99pm

£382.99pm

£353.99pm

£340.99pm

£323.99pm

Call Us

View

details

SPRINTER 311CDI L1 DIESEL FWD

3.5t H2 Van 9G-Tronic

Call Us

£432.99pm

£400.99pm

£375.99pm

£350.99pm

£336.99pm

£324.99pm

Call Us

View

details

SPRINTER 214CDI L2 DIESEL FWD

3.0t H1 Van 9G-Tronic

Call Us

£459.99pm

£399.99pm

£388.99pm

£352.99pm

£344.99pm

£324.99pm

Call Us

View

details

SPRINTER 211CDI L1 DIESEL FWD

3.0t Dropside

Call Us

£437.99pm

£512.99pm

£368.99pm

£447.99pm

£325.99pm

£403.99pm

Call Us

View

details

SPRINTER 314CDI L2 DIESEL FWD

3.5t H1 Van 9G-Tronic

Call Us

£441.99pm

£398.99pm

£380.99pm

£351.99pm

£342.99pm

£326.99pm

Call Us

View

details

SPRINTER 314CDI L1 DIESEL FWD

3.5t H2 Van 9G-Tronic

Call Us

£431.99pm

£401.99pm

£375.99pm

£352.99pm

£338.99pm

£326.99pm

Call Us

View

details

SPRINTER 214CDI L2 DIESEL FWD

3.0t Dropside

Call Us

£434.99pm

£522.99pm

£372.99pm

£457.99pm

£329.99pm

£414.99pm

Call Us

View

details

SPRINTER 211CDI L2 DIESEL FWD

3.0t Dropside

Call Us

£445.99pm

£518.99pm

£375.99pm

£453.99pm

£331.99pm

£410.99pm

Call Us

View

details

SPRINTER 311CDI L1 DIESEL FWD

3.5t Dropside

Call Us

£441.99pm

£396.99pm

£391.99pm

£358.99pm

£349.99pm

£332.99pm

Call Us

View

details

SPRINTER 311CDI L2 DIESEL RWD

3.5t H1 Van

Call Us

£467.99pm

£414.99pm

£396.99pm

£361.99pm

£352.99pm

£333.99pm

Call Us

View

details

SPRINTER 314CDI L2 DIESEL RWD

3.5t H1 Van

Call Us

£466.99pm

£416.99pm

£397.99pm

£363.99pm

£354.99pm

£335.99pm

Call Us

View

details

SPRINTER 211CDI L2 DIESEL FWD

3.0t H2 Van 9G-Tronic

Call Us

£482.99pm

£416.99pm

£404.99pm

£366.99pm

£357.99pm

£335.99pm

Call Us

View

details

SPRINTER 311CDI L2 DIESEL FWD

3.5t Dropside

Call Us

£442.99pm

£397.99pm

£399.99pm

£361.99pm

£363.99pm

£335.99pm

Call Us

View

details

SPRINTER 311CDI L2 DIESEL FWD

3.5t H2 Van 9G-Tronic

Call Us

£461.99pm

£414.99pm

£395.99pm

£363.99pm

£354.99pm

£335.99pm

Call Us

View

details

SPRINTER 314CDI L1 DIESEL FWD

3.5t Dropside

Call Us

£442.99pm

£398.99pm

£392.99pm

£361.99pm

£351.99pm

£335.99pm

Call Us

View

details

SPRINTER 314CDI L2 DIESEL FWD

3.5t H2 Van 9G-Tronic

Call Us

£461.99pm

£415.99pm

£396.99pm

£364.99pm

£355.99pm

£337.99pm

Call Us

View

details

SPRINTER 214CDI L2 DIESEL FWD

3.0t H2 Van 9G-Tronic

Call Us

£483.99pm

£417.99pm

£406.99pm

£368.99pm

£359.99pm

£337.99pm

Call Us

View

details

SPRINTER 314CDI L2 DIESEL FWD

3.5t Dropside

Call Us

£442.99pm

£398.99pm

£400.99pm

£363.99pm

£364.99pm

£338.99pm

Call Us

View

details

SPRINTER 316CDI L2 DIESEL RWD

3.5t H1 Van

Call Us

£472.99pm

£421.99pm

£402.99pm

£369.99pm

£359.99pm

£340.99pm

Call Us

View

details

SPRINTER 311CDI L2 DIESEL RWD

3.5t H1 Van 7G-Tronic

Call Us

£483.99pm

£430.99pm

£410.99pm

£376.99pm

£365.99pm

£345.99pm

Call Us

View

details

SPRINTER 311CDI L2 DIESEL RWD

3.5t H2 Van

Call Us

£487.99pm

£430.99pm

£412.99pm

£376.99pm

£366.99pm

£345.99pm

Call Us

View

details

SPRINTER 214CDI L1 DIESEL FWD

3.0t Dropside 9G-Tronic

Call Us

£462.99pm

£551.99pm

£392.99pm

£482.99pm

£346.99pm

£434.99pm

Call Us

View

details

SPRINTER 314CDI L2 DIESEL RWD

3.5t H2 Van

Call Us

£472.99pm

£432.99pm

£405.99pm

£378.99pm

£368.99pm

£347.99pm

Call Us

View

details

SPRINTER 314CDI L2 DIESEL RWD

3.5t H1 Van 7G-Tronic

Call Us

£484.99pm

£431.99pm

£412.99pm

£378.99pm

£367.99pm

£348.99pm

Call Us

View

details

SPRINTER 311CDI L3 DIESEL RWD

3.5t H2 Van

Call Us

£492.99pm

£433.99pm

£418.99pm

£379.99pm

£372.99pm

£348.99pm

Call Us

View

details

SPRINTER 211CDI L1 DIESEL FWD

3.0t Dropside 9G-Tronic

Call Us

£473.99pm

£547.99pm

£397.99pm

£477.99pm

£348.99pm

£430.99pm

Call Us

View

details

SPRINTER 314CDI L3 DIESEL RWD

3.5t H2 Van

Call Us

£481.99pm

£435.99pm

£411.99pm

£380.99pm

£367.99pm

£351.99pm

Call Us

View

details

SPRINTER 311CDI L1 DIESEL FWD

3.5t Dropside 9G-Tronic

Call Us

£468.99pm

£418.99pm

£414.99pm

£379.99pm

£369.99pm

£351.99pm

Call Us

View

details

SPRINTER 211CDI SHORT DIESEL

3.0t Van

Call Us

£496.99pm

£511.99pm

£405.99pm

£432.99pm

£351.99pm

£382.99pm

Call Us

View

details

SPRINTER 316CDI L2 DIESEL RWD

3.5t H2 Van

Call Us

£493.99pm

£438.99pm

£418.99pm

£383.99pm

£373.99pm

£352.99pm

Call Us

View

details

SPRINTER 316CDI L2 DIESEL RWD

3.5t H1 Van 7G-Tronic

Call Us

£489.99pm

£436.99pm

£417.99pm

£382.99pm

£372.99pm

£353.99pm

Call Us

View

details

SPRINTER 314CDI L1 DIESEL FWD

3.5t Dropside 9G-Tronic

Call Us

£468.99pm

£419.99pm

£414.99pm

£380.99pm

£370.99pm

£353.99pm

Call Us

View

details

SPRINTER 311CDI L2 DIESEL FWD

3.5t Dropside 9G-Tronic

Call Us

£468.99pm

£419.99pm

£421.99pm

£381.99pm

£382.99pm

£354.99pm

Call Us

View

details

SPRINTER 311CDI L4 DIESEL RWD

3.5t H2 Van

Call Us

£502.99pm

£440.99pm

£425.99pm

£385.99pm

£378.99pm

£354.99pm

Call Us

View

details

SPRINTER 214CDI L2 DIESEL FWD

3.0t Dropside 9G-Tronic

Call Us

£470.99pm

£557.99pm

£400.99pm

£488.99pm

£354.99pm

£442.99pm

Call Us

View

details

SPRINTER 214CDI SHORT DIESEL

3.0t Van

Call Us

£500.99pm

£515.99pm

£409.99pm

£437.99pm

£355.99pm

£387.99pm

Call Us

View

details

SPRINTER 211CDI L2 DIESEL FWD

3.0t Dropside 9G-Tronic

Call Us

£480.99pm

£553.99pm

£404.99pm

£484.99pm

£355.99pm

£437.99pm

Call Us

View

details

SPRINTER 314CDI L2 DIESEL FWD

3.5t Dropside 9G-Tronic

Call Us

£466.99pm

£418.99pm

£420.99pm

£382.99pm

£384.99pm

£356.99pm

Call Us

View

details

SPRINTER 316CDI L3 DIESEL RWD

3.5t H2 Van

Call Us

£496.99pm

£441.99pm

£426.99pm

£385.99pm

£379.99pm

£356.99pm

Call Us

View

details

SPRINTER 314CDI L4 DIESEL RWD

3.5t H2 Van

Call Us

£487.99pm

£442.99pm

£416.99pm

£388.99pm

£373.99pm

£357.99pm

Call Us

View

details

SPRINTER 311CDI L2 DIESEL RWD

3.5t H2 Van 7G-Tronic

Call Us

£504.99pm

£446.99pm

£427.99pm

£389.99pm

£379.99pm

£357.99pm

Call Us

View

details

SPRINTER 211CDI SHORT DIESEL

3.0t BlueEFFICIENCY Van

Call Us

£507.99pm

£527.99pm

£414.99pm

£445.99pm

£360.99pm

£394.99pm

Call Us

View

details

SPRINTER 314CDI L2 DIESEL RWD

3.5t H2 Van 7G-Tronic

Call Us

£504.99pm

£448.99pm

£428.99pm

£392.99pm

£380.99pm

£360.99pm

Call Us

View

details

SPRINTER 311CDI L3 DIESEL RWD

3.5t H2 Van 7G-Tronic

Call Us

£507.99pm

£448.99pm

£434.99pm

£392.99pm

£385.99pm

£361.99pm

Call Us

View

details

SPRINTER 316CDI L4 DIESEL RWD

3.5t H2 Van

Call Us

£507.99pm

£447.99pm

£431.99pm

£393.99pm

£384.99pm

£361.99pm

Call Us

View

details

SPRINTER 214CDI SHORT DIESEL

3.0t BlueEFFICIENCY Van

Call Us

£510.99pm

£532.99pm

£417.99pm

£450.99pm

£362.99pm

£398.99pm

Call Us

View

details

SPRINTER 216CDI SHORT DIESEL

3.0t Van

Call Us

£509.99pm

£529.99pm

£417.99pm

£448.99pm

£362.99pm

£397.99pm

Call Us

View

details

SPRINTER 311CDI L2 DIESEL RWD

3.5t Dropside

Call Us

£496.99pm

£438.99pm

£439.99pm

£394.99pm

£395.99pm

£363.99pm

Call Us

View

details

SPRINTER 314CDI L3 DIESEL RWD

3.5t H2 Van 7G-Tronic

Call Us

£506.99pm

£450.99pm

£434.99pm

£395.99pm

£387.99pm

£364.99pm

Call Us

View

details

SPRINTER 311CDI L3 DIESEL RWD

3.5t Dropside

Call Us

£487.99pm

£435.99pm

£437.99pm

£394.99pm

£399.99pm

£365.99pm

Call Us

View

details

SPRINTER 316CDI L2 DIESEL RWD

3.5t H2 Van 7G-Tronic

Call Us

£510.99pm

£454.99pm

£433.99pm

£397.99pm

£386.99pm

£365.99pm

Call Us

View

details

SPRINTER 214CDI SHORT DIESEL

3.0t Chassis Cab 7G-Tronic

Call Us

£513.99pm

£529.99pm

£419.99pm

£452.99pm

£365.99pm

£401.99pm

Call Us

View

details

SPRINTER 314CDI L2 DIESEL RWD

3.5t Dropside

Call Us

£497.99pm

£439.99pm

£440.99pm

£396.99pm

£396.99pm

£366.99pm

Call Us

View

details

SPRINTER 311CDI L4 DIESEL RWD

3.5t H2 Van 7G-Tronic

Call Us

£518.99pm

£456.99pm

£440.99pm

£399.99pm

£391.99pm

£367.99pm

Call Us

View

details

SPRINTER 211CDI SHORT DIESEL

3.0t High Roof Van

Call Us

£518.99pm

£536.99pm

£424.99pm

£453.99pm

£367.99pm

£400.99pm

Call Us

View

details

SPRINTER 211CDI SHORT DIESEL

3.0t Chassis Cab 7G-Tronic

Call Us

£523.99pm

£525.99pm

£423.99pm

£447.99pm

£367.99pm

£397.99pm

Call Us

View

details

SPRINTER 314CDI L3 DIESEL RWD

3.5t Dropside

Call Us

£488.99pm

£437.99pm

£438.99pm

£396.99pm

£399.99pm

£368.99pm

Call Us

View

details

SPRINTER 316CDI L3 DIESEL RWD

3.5t H2 Van 7G-Tronic

Call Us

£513.99pm

£457.99pm

£441.99pm

£399.99pm

£392.99pm

£368.99pm

Call Us

View

details

SPRINTER 211CDI SHORT DIESEL

3.0t Van 7G-Tronic

Call Us

£521.99pm

£539.99pm

£426.99pm

£456.99pm

£369.99pm

£403.99pm

Call Us

View

details

SPRINTER 214CDI SHORT DIESEL

3.0t Dropside

Call Us

£511.99pm

£539.99pm

£420.99pm

£460.99pm

£369.99pm

£409.99pm

Call Us

View

details

SPRINTER 314CDI L4 DIESEL RWD

3.5t H2 Van 7G-Tronic

Call Us

£519.99pm

£457.99pm

£441.99pm

£402.99pm

£393.99pm

£370.99pm

Call Us

View

details

SPRINTER 211CDI SHORT DIESEL

3.0t Dropside

Call Us

£520.99pm

£534.99pm

£424.99pm

£456.99pm

£370.99pm

£404.99pm

Call Us

View

details

SPRINTER 216CDI SHORT DIESEL

3.0t BlueEFFICIENCY Van

Call Us

£520.99pm

£545.99pm

£426.99pm

£461.99pm

£370.99pm

£408.99pm

Call Us

View

details

SPRINTER 316CDI L2 DIESEL RWD

3.5t Dropside

Call Us

£499.99pm

£444.99pm

£445.99pm

£401.99pm

£397.99pm

£371.99pm

Call Us

View

details

SPRINTER 214CDI SHORT DIESEL

3.0t High Roof Van

Call Us

£523.99pm

£541.99pm

£428.99pm

£458.99pm

£371.99pm

£405.99pm

Call Us

View

details

SPRINTER 316CDI L3 DIESEL RWD

3.5t Dropside

Call Us

£490.99pm

£442.99pm

£443.99pm

£401.99pm

£402.99pm

£373.99pm

Call Us

View

details

SPRINTER 216CDI SHORT DIESEL

3.0t Dropside

Call Us

£516.99pm

£549.99pm

£425.99pm

£469.99pm

£373.99pm

£418.99pm

Call Us

View

details

SPRINTER 214CDI SHORT DIESEL

3.0t Van 7G-Tronic

Call Us

£526.99pm

£543.99pm

£430.99pm

£461.99pm

£374.99pm

£408.99pm

Call Us

View

details

SPRINTER 214CDI MEDIUM DIESEL

3.0t Chassis Cab 7G-Tronic

Call Us

£523.99pm

£538.99pm

£429.99pm

£460.99pm

£374.99pm

£409.99pm

Call Us

View

details

SPRINTER 316CDI L4 DIESEL RWD

3.5t H2 Van 7G-Tronic

Call Us

£525.99pm

£463.99pm

£446.99pm

£407.99pm

£397.99pm

£375.99pm

Call Us

View

details

SPRINTER 211CDI MEDIUM DIESEL

3.0t Chassis Cab 7G-Tronic

Call Us

£532.99pm

£534.99pm

£432.99pm

£455.99pm

£375.99pm

£404.99pm

Call Us

View

details

SPRINTER 211CDI MEDIUM DIESEL

3.0t Van

Call Us

£533.99pm

£539.99pm

£433.99pm

£456.99pm

£375.99pm

£403.99pm

Call Us

View

details

SPRINTER 211CDI SHORT DIESEL

3.0t BlueEFFICIENCY High Roof Van

Call Us

£531.99pm

£553.99pm

£433.99pm

£466.99pm

£376.99pm

£412.99pm

Call Us

View

details

SPRINTER 311CDI L2 DIESEL RWD

3.5t Dropside 7G-Tronic

Call Us

£513.99pm

£453.99pm

£454.99pm

£408.99pm

£409.99pm

£377.99pm

Call Us

View

details

SPRINTER 319CDI L2 DIESEL RWD

3.5t H1 Van

Call Us

£539.99pm

£473.99pm

£453.99pm

£412.99pm

£400.99pm

£377.99pm

Call Us

View

details

SPRINTER 214CDI SHORT DIESEL

3.0t BlueEFFICIENCY Chassis Cab 7G-Tronic

Call Us

£531.99pm

£545.99pm

£433.99pm

£465.99pm

£377.99pm

£412.99pm

Call Us

View

details

SPRINTER 216CDI SHORT DIESEL

3.0t High Roof Van

Call Us

£543.99pm

£554.99pm

£442.99pm

£469.99pm

£377.99pm

£415.99pm

Call Us

View

details

SPRINTER 311CDI L3 DIESEL RWD

3.5t Dropside 7G-Tronic

Call Us

£503.99pm

£450.99pm

£451.99pm

£408.99pm

£414.99pm

£378.99pm

Call Us

View

details

SPRINTER 211CDI SHORT DIESEL

3.0t BlueEFFICIENCY Chassis Cab 7G-Tronic

Call Us

£538.99pm

£540.99pm

£437.99pm

£460.99pm

£378.99pm

£407.99pm

Call Us

View

details

SPRINTER 211CDI SHORT DIESEL

3.0t BlueEFFICIENCY Van 7G-Tronic

Call Us

£532.99pm

£555.99pm

£435.99pm

£469.99pm

£378.99pm

£415.99pm

Call Us

View

details

SPRINTER 214CDI MEDIUM DIESEL

3.0t Dropside

Call Us

£521.99pm

£547.99pm

£430.99pm

£468.99pm

£378.99pm

£417.99pm

Call Us

View

details

SPRINTER 314CDI L2 DIESEL RWD

3.5t Dropside 7G-Tronic

Call Us

£507.99pm

£453.99pm

£454.99pm

£410.99pm

£410.99pm

£378.99pm

Call Us

View

details

SPRINTER 211CDI MEDIUM DIESEL

3.0t Dropside

Call Us

£530.99pm

£542.99pm

£433.99pm

£465.99pm

£379.99pm

£413.99pm

Call Us

View

details

SPRINTER 214CDI MEDIUM DIESEL

3.0t Van

Call Us

£536.99pm

£544.99pm

£437.99pm

£461.99pm

£379.99pm

£408.99pm

Call Us

View

details

SPRINTER 316CDI L3 DIESEL RWD

3.5t Dropside 7G-Tronic

Call Us

£479.99pm

£442.99pm

£443.99pm

£406.99pm

£412.99pm

£379.99pm

Call Us

View

details

SPRINTER 214CDI SHORT DIESEL

3.0t BlueEFFICIENCY Dropside

Call Us

£529.99pm

£554.99pm

£434.99pm

£473.99pm

£379.99pm

£420.99pm

Call Us

View

details

SPRINTER 214CDI SHORT DIESEL

3.0t BlueEFFICIENCY High Roof Van

Call Us

£536.99pm

£557.99pm

£438.99pm

£470.99pm

£379.99pm

£416.99pm

Call Us

View

details

SPRINTER 314CDI L3 DIESEL RWD

3.5t Dropside 7G-Tronic

Call Us

£498.99pm

£451.99pm

£452.99pm

£411.99pm

£416.99pm

£380.99pm

Call Us

View

details

SPRINTER 211CDI SHORT DIESEL

3.0t BlueEFFICIENCY Dropside

Call Us

£539.99pm

£550.99pm

£438.99pm

£468.99pm

£380.99pm

£416.99pm

Call Us

View

details

SPRINTER 216CDI SHORT DIESEL

3.0t BlueEFFICIENCY Chassis Cab 7G-Tronic

Call Us

£536.99pm

£554.99pm

£437.99pm

£474.99pm

£380.99pm

£421.99pm

Call Us

View

details

SPRINTER 216CDI MEDIUM DIESEL

3.0t Dropside

Call Us

£526.99pm

£557.99pm

£435.99pm

£478.99pm

£381.99pm

£425.99pm

Call Us

View

details

SPRINTER 214CDI SHORT DIESEL

3.0t BlueEFFICIENCY Van 7G-Tronic

Call Us

£536.99pm

£560.99pm

£439.99pm

£474.99pm

£381.99pm

£419.99pm

Call Us

View

details

SPRINTER 211CDI MEDIUM DIESEL

3.0t BlueEFFICIENCY Van

Call Us

£543.99pm

£555.99pm

£442.99pm

£468.99pm

£382.99pm

£415.99pm

Call Us

View

details

SPRINTER 216CDI SHORT DIESEL

3.0t Van 7G-Tronic

Call Us

£544.99pm

£557.99pm

£443.99pm

£472.99pm

£382.99pm

£418.99pm

Call Us

View

details

SPRINTER 216CDI SHORT DIESEL

3.0t BlueEFFICIENCY Dropside

Call Us

£534.99pm

£565.99pm

£438.99pm

£483.99pm

£383.99pm

£428.99pm

Call Us

View

details

SPRINTER 216CDI MEDIUM DIESEL

3.0t Van

Call Us

£545.99pm

£557.99pm

£444.99pm

£472.99pm

£384.99pm

£419.99pm

Call Us

View

details

SPRINTER 316CDI L2 DIESEL RWD

3.5t Dropside 7G-Tronic

Call Us

£514.99pm

£459.99pm

£460.99pm

£415.99pm

£415.99pm

£384.99pm

Call Us

View

details

SPRINTER 214CDI MEDIUM DIESEL

3.0t BlueEFFICIENCY Chassis Cab 7G-Tronic

Call Us

£542.99pm

£553.99pm

£443.99pm

£473.99pm

£385.99pm

£420.99pm

Call Us

View

details

SPRINTER 211CDI SHORT DIESEL

3.0t High Roof Van 7G-Tronic

Call Us

£545.99pm

£565.99pm

£445.99pm

£477.99pm

£385.99pm

£422.99pm

Call Us

View

details

SPRINTER 211CDI MEDIUM DIESEL

3.0t BlueEFFICIENCY Chassis Cab 7G-Tronic

Call Us

£551.99pm

£550.99pm

£445.99pm

£468.99pm

£386.99pm

£416.99pm

Call Us

View

details

SPRINTER 214CDI MEDIUM DIESEL

3.0t BlueEFFICIENCY Van

Call Us

£548.99pm

£560.99pm

£446.99pm

£474.99pm

£386.99pm

£419.99pm

Call Us

View

details

SPRINTER 216CDI SHORT DIESEL

3.0t BlueEFFICIENCY High Roof Van

Call Us

£554.99pm

£570.99pm

£451.99pm

£482.99pm

£387.99pm

£425.99pm

Call Us

View

details

SPRINTER 214CDI MEDIUM DIESEL

3.0t BlueEFFICIENCY Dropside

Call Us

£540.99pm

£564.99pm

£443.99pm

£482.99pm

£388.99pm

£428.99pm

Call Us

View

details

SPRINTER 211CDI MEDIUM DIESEL

3.0t BlueEFFICIENCY Dropside

Call Us

£548.99pm

£558.99pm

£446.99pm

£477.99pm

£389.99pm

£423.99pm

Call Us

View

details

SPRINTER 214CDI SHORT DIESEL

3.0t Dropside 7G-Tronic

Call Us

£540.99pm

£565.99pm

£444.99pm

£483.99pm

£389.99pm

£429.99pm

Call Us

View

details

SPRINTER 214CDI SHORT DIESEL

3.0t High Roof Van 7G-Tronic

Call Us

£548.99pm

£569.99pm

£448.99pm

£482.99pm

£389.99pm

£426.99pm

Call Us

View

details

SPRINTER 211CDI SHORT DIESEL

3.0t Dropside 7G-Tronic

Call Us

£550.99pm

£561.99pm

£447.99pm

£479.99pm

£390.99pm

£424.99pm

Call Us

View

details

SPRINTER 211CDI MEDIUM DIESEL

3.0t High Roof Van

Call Us

£555.99pm

£565.99pm

£452.99pm

£477.99pm

£390.99pm

£422.99pm

Call Us

View

details

SPRINTER 311CDI L3 DIESEL RWD

3.5t Crew Cab Dropside

Call Us

£526.99pm

£468.99pm

£469.99pm

£422.99pm

£422.99pm

£390.99pm

Call Us

View

details

SPRINTER 319CDI L2 DIESEL RWD

3.5t H2 Van

Call Us

£543.99pm

£491.99pm

£458.99pm

£427.99pm

£407.99pm

£390.99pm

Call Us

View

details

SPRINTER 311CDI L1 DIESEL RWD

3.5t Crew Cab Dropside

Call Us

£552.99pm

£482.99pm

£462.99pm

£428.99pm

£408.99pm

£390.99pm

Call Us

View

details

SPRINTER 319CDI L2 DIESEL RWD

3.5t H1 Van 7G-Tronic

Call Us

£555.99pm

£490.99pm

£468.99pm

£426.99pm

£414.99pm

£390.99pm

Call Us

View

details

SPRINTER 216CDI SHORT DIESEL

3.0t BlueEFFICIENCY Van 7G-Tronic

Call Us

£555.99pm

£574.99pm

£453.99pm

£485.99pm

£392.99pm

£429.99pm

Call Us

View

details

SPRINTER 319CDI L3 DIESEL RWD

3.5t H2 Van

Call Us

£550.99pm

£493.99pm

£465.99pm

£429.99pm

£413.99pm

£392.99pm

Call Us

View

details

SPRINTER 311CDI L3 DIESEL RWD

3.5t H3 Van

Call Us

£540.99pm

£698.99pm

£451.99pm

£591.99pm

£393.99pm

£532.99pm

Call Us

View

details

SPRINTER 211CDI SHORT DIESEL

3.0t BlueEFFICIENCY High Roof Van 7G-Tronic

Call Us

£555.99pm

£580.99pm

£454.99pm

£490.99pm

£393.99pm

£433.99pm

Call Us

View

details

SPRINTER 216CDI MEDIUM DIESEL

3.0t BlueEFFICIENCY Dropside

Call Us

£545.99pm

£574.99pm

£448.99pm

£491.99pm

£393.99pm

£436.99pm

Call Us

View

details

SPRINTER 216CDI MEDIUM DIESEL

3.0t BlueEFFICIENCY Van

Call Us

£555.99pm

£574.99pm

£454.99pm

£485.99pm

£393.99pm

£429.99pm

Call Us

View

details

SPRINTER 216CDI SHORT DIESEL

3.0t Dropside 7G-Tronic

Call Us

£545.99pm

£576.99pm

£448.99pm

£493.99pm

£393.99pm

£438.99pm

Call Us

View

details

SPRINTER 314CDI L3 DIESEL RWD

3.5t Crew Cab Dropside

Call Us

£526.99pm

£469.99pm

£470.99pm

£424.99pm

£423.99pm

£393.99pm

Call Us

View

details

SPRINTER 314CDI L3 DIESEL RWD

3.5t H3 Van

Call Us

£538.99pm

£702.99pm

£452.99pm

£595.99pm

£394.99pm

£536.99pm

Call Us

View

details

SPRINTER 214CDI MEDIUM DIESEL

3.0t High Roof Van

Call Us

£560.99pm

£568.99pm

£456.99pm

£482.99pm

£394.99pm

£426.99pm

Call Us

View

details

SPRINTER 211CDI MEDIUM DIESEL

3.0t Van 7G-Tronic

Call Us

£560.99pm

£567.99pm

£456.99pm

£480.99pm

£394.99pm

£424.99pm

Call Us

View

details

SPRINTER 314CDI L1 DIESEL RWD

3.5t Crew Cab Dropside

Call Us

£550.99pm

£484.99pm

£462.99pm

£430.99pm

£409.99pm

£394.99pm

Call Us

View

details

SPRINTER 311CDI L2 DIESEL RWD

3.5t Crew Cab Dropside

Call Us

£557.99pm

£483.99pm

£472.99pm

£431.99pm

£416.99pm

£394.99pm

Call Us

View

details

SPRINTER 316CDI L3 DIESEL RWD

3.5t H3 Van

Call Us

£537.99pm

£713.99pm

£453.99pm

£604.99pm

£397.99pm

£539.99pm

Call Us

View

details

SPRINTER 214CDI MEDIUM DIESEL

3.0t Van 7G-Tronic

Call Us

£564.99pm

£572.99pm

£458.99pm

£485.99pm

£397.99pm

£429.99pm

Call Us

View

details

SPRINTER 216CDI SHORT DIESEL

3.0t High Roof Van 7G-Tronic

Call Us

£576.99pm

£582.99pm

£468.99pm

£493.99pm

£397.99pm

£436.99pm

Call Us

View

details

SPRINTER 214CDI SHORT DIESEL

3.0t BlueEFFICIENCY High Roof Van 7G-Tronic

Call Us

£559.99pm

£585.99pm

£457.99pm

£495.99pm

£397.99pm

£437.99pm

Call Us

View

details

SPRINTER 314CDI L2 DIESEL RWD

3.5t Crew Cab Dropside

Call Us

£558.99pm

£484.99pm

£471.99pm

£432.99pm

£415.99pm

£397.99pm

Call Us

View

details

SPRINTER 314CDI LONG DIESEL

3.5t BlueEFF Crew Cab Dropside 7G-Tronic

Call Us

£525.99pm

£686.99pm

£445.99pm

£594.99pm

£397.99pm

£537.99pm

Call Us

View

details

SPRINTER 214CDI MEDIUM DIESEL

3.0t Dropside 7G-Tronic

Call Us

£551.99pm

£573.99pm

£454.99pm

£491.99pm

£397.99pm

£438.99pm

Call Us

View

details

SPRINTER 211CDI MEDIUM DIESEL

3.0t BlueEFFICIENCY High Roof Van

Call Us

£566.99pm

£580.99pm

£460.99pm

£490.99pm

£397.99pm

£433.99pm

Call Us

View

details

SPRINTER 211CDI MEDIUM DIESEL

3.0t Dropside 7G-Tronic

Call Us

£560.99pm

£569.99pm

£457.99pm

£487.99pm

£398.99pm

£433.99pm

Call Us

View

details

SPRINTER 316CDI L1 DIESEL RWD

3.5t Crew Cab Dropside

Call Us

£556.99pm

£490.99pm

£468.99pm

£435.99pm

£414.99pm

£399.99pm

Call Us

View

details

SPRINTER 319CDI L4 DIESEL RWD

3.5t H2 Van

Call Us

£557.99pm

£500.99pm

£471.99pm

£436.99pm

£418.99pm

£399.99pm

Call Us

View

details

SPRINTER 216CDI MEDIUM DIESEL

3.0t High Roof Van

Call Us

£577.99pm

£582.99pm

£469.99pm

£493.99pm

£399.99pm

£436.99pm

Call Us

View

details

SPRINTER 214CDI SHORT DIESEL

3.0t BlueEFFICIENCY Dropside 7G-Tronic

Call Us

£559.99pm

£581.99pm

£457.99pm

£496.99pm

£399.99pm

£440.99pm

Call Us

View

details

SPRINTER 211CDI MEDIUM DIESEL

3.0t BlueEFFICIENCY Van 7G-Tronic

Call Us

£570.99pm

£583.99pm

£463.99pm

£493.99pm

£400.99pm

£436.99pm

Call Us

View

details

SPRINTER 314CDI L4 DIESEL RWD

3.5t H3 Van

Call Us

£544.99pm

£714.99pm

£457.99pm

£606.99pm

£400.99pm

£541.99pm

Call Us

View

details

SPRINTER 311CDI L4 DIESEL RWD

3.5t H3 Van

Call Us

£552.99pm

£708.99pm

£460.99pm

£602.99pm

£401.99pm

£541.99pm

Call Us

View

details

SPRINTER 214CDI MEDIUM DIESEL

3.0t BlueEFFICIENCY High Roof Van

Call Us

£571.99pm

£585.99pm

£464.99pm

£495.99pm

£401.99pm

£437.99pm

Call Us

View

details

SPRINTER 216CDI MEDIUM DIESEL

3.0t Dropside 7G-Tronic

Call Us

£556.99pm

£583.99pm

£458.99pm

£501.99pm

£401.99pm

£445.99pm

Call Us

View

details

SPRINTER 211CDI SHORT DIESEL

3.0t BlueEFFICIENCY Dropside 7G-Tronic

Call Us

£568.99pm

£576.99pm

£461.99pm

£491.99pm

£401.99pm

£436.99pm

Call Us

View

details

SPRINTER 316CDI L2 DIESEL RWD

3.5t Crew Cab Dropside

Call Us

£561.99pm

£490.99pm

£476.99pm

£438.99pm

£421.99pm

£402.99pm

Call Us

View

details

SPRINTER 216CDI SHORT DIESEL

3.0t BlueEFFICIENCY Dropside 7G-Tronic

Call Us

£564.99pm

£592.99pm

£462.99pm

£505.99pm

£403.99pm

£449.99pm

Call Us

View

details

SPRINTER 319CDI L2 DIESEL RWD

3.5t H2 Van 7G-Tronic

Call Us

£569.99pm

£507.99pm

£479.99pm

£441.99pm

£424.99pm

£403.99pm

Call Us

View

details

SPRINTER 316CDI L3 DIESEL RWD

3.5t Crew Cab Dropside

Call Us

£549.99pm

£486.99pm

£484.99pm

£438.99pm

£429.99pm

£403.99pm

Call Us

View

details

SPRINTER 214CDI MEDIUM DIESEL

3.0t BlueEFFICIENCY Van 7G-Tronic

Call Us

£574.99pm

£589.99pm

£468.99pm

£498.99pm

£404.99pm

£441.99pm

Call Us

View

details

SPRINTER 311CDI SHORT DIESEL

3.5t Van

Call Us

£569.99pm

£596.99pm

£466.99pm

£501.99pm

£404.99pm

£443.99pm

Call Us

View

details

SPRINTER 316CDI L4 DIESEL RWD

3.5t H3 Van

Call Us

£546.99pm

£725.99pm

£461.99pm

£615.99pm

£404.99pm

£549.99pm

Call Us

View

details

SPRINTER 311CDI L1 DIESEL RWD

3.5t Crew Cab Dropside 7G-Tronic

Call Us

£569.99pm

£498.99pm

£477.99pm

£442.99pm

£421.99pm

£404.99pm

Call Us

View

details

SPRINTER 216CDI MEDIUM DIESEL

3.0t Van 7G-Tronic

Call Us

£579.99pm

£586.99pm

£471.99pm

£496.99pm

£405.99pm

£439.99pm

Call Us

View

details

SPRINTER 319CDI L3 DIESEL RWD

3.5t H2 Van 7G-Tronic

Call Us

£565.99pm

£507.99pm

£479.99pm

£442.99pm

£426.99pm

£405.99pm

Call Us

View

details

SPRINTER 314CDI L1 DIESEL RWD

3.5t Crew Cab Dropside 7G-Tronic

Call Us

£567.99pm

£498.99pm

£477.99pm

£444.99pm

£422.99pm

£406.99pm

Call Us

View

details

SPRINTER 216CDI SHORT DIESEL

3.0t BlueEFFICIENCY High Roof Van 7G-Tronic

Call Us

£588.99pm

£599.99pm

£478.99pm

£506.99pm

£408.99pm

£447.99pm

Call Us

View

details

SPRINTER 319CDI L2 DIESEL RWD

3.5t Dropside

Call Us

£569.99pm

£497.99pm

£497.99pm

£445.99pm

£437.99pm

£408.99pm

Call Us

View

details

SPRINTER 311CDI L2 DIESEL RWD

3.5t Crew Cab Dropside 7G-Tronic

Call Us

£573.99pm

£498.99pm

£495.99pm

£445.99pm

£434.99pm

£408.99pm

Call Us

View

details

SPRINTER 311CDI L3 DIESEL RWD

3.5t H3 Van 7G-Tronic

Call Us

£563.99pm

£723.99pm

£470.99pm

£613.99pm

£409.99pm

£547.99pm

Call Us

View

details

SPRINTER 214CDI MEDIUM DIESEL

3.0t BlueEFFICIENCY Dropside 7G-Tronic

Call Us

£569.99pm

£589.99pm

£468.99pm

£504.99pm

£409.99pm

£448.99pm

Call Us

View

details

SPRINTER 211CDI MEDIUM DIESEL

3.0t High Roof Van 7G-Tronic

Call Us

£582.99pm

£593.99pm

£473.99pm

£502.99pm

£409.99pm

£443.99pm

Call Us

View

details

SPRINTER 211CDI MEDIUM DIESEL

3.0t BlueEFFICIENCY Dropside 7G-Tronic

Call Us

£578.99pm

£584.99pm

£471.99pm

£500.99pm

£409.99pm

£443.99pm

Call Us

View

details

SPRINTER 311CDI L3 DIESEL RWD

3.5t Crew Cab Dropside 7G-Tronic

Call Us

£562.99pm

£496.99pm

£495.99pm

£445.99pm

£436.99pm

£409.99pm

Call Us

View

details

SPRINTER 314CDI L3 DIESEL RWD

3.5t H3 Van 7G-Tronic

Call Us

£561.99pm

£728.99pm

£471.99pm

£617.99pm

£410.99pm

£552.99pm

Call Us

View

details

SPRINTER 216CDI MEDIUM DIESEL

3.0t BlueEFFICIENCY High Roof Van

Call Us

£589.99pm

£599.99pm

£478.99pm

£506.99pm

£410.99pm

£447.99pm

Call Us

View

details

SPRINTER 314CDI L2 DIESEL RWD

3.5t Crew Cab Dropside 7G-Tronic

Call Us

£567.99pm

£498.99pm

£485.99pm

£446.99pm

£430.99pm

£410.99pm

Call Us

View

details

SPRINTER 316CDI L3 DIESEL RWD

3.5t Crew Cab Dropside 7G-Tronic

Call Us

£535.99pm

£487.99pm

£488.99pm

£443.99pm

£442.99pm

£410.99pm

Call Us

View

details

SPRINTER 319CDI L1 DIESEL RWD

3.5t Crew Cab Dropside

Call Us

£576.99pm

£506.99pm

£484.99pm

£450.99pm

£428.99pm

£411.99pm

Call Us

View

details

SPRINTER 319CDI L3 DIESEL RWD

3.5t Dropside

Call Us

£562.99pm

£496.99pm

£496.99pm

£446.99pm

£445.99pm

£411.99pm

Call Us

View

details

SPRINTER 319CDI L4 DIESEL RWD

3.5t H2 Van 7G-Tronic

Call Us

£573.99pm

£514.99pm

£485.99pm

£449.99pm

£432.99pm

£411.99pm

Call Us

View

details

SPRINTER 314CDI L3 DIESEL RWD

3.5t Crew Cab Dropside 7G-Tronic

Call Us

£560.99pm

£497.99pm

£494.99pm

£447.99pm

£436.99pm

£412.99pm

Call Us

View

details

SPRINTER 314CDI SHORT DIESEL

3.5t Van

Call Us

£586.99pm

£601.99pm

£477.99pm

£505.99pm

£413.99pm

£448.99pm

Call Us

View

details

SPRINTER 216CDI MEDIUM DIESEL

3.0t BlueEFFICIENCY Dropside 7G-Tronic

Call Us

£574.99pm

£599.99pm

£471.99pm

£513.99pm

£413.99pm

£456.99pm

Call Us

View

details

SPRINTER 214CDI MEDIUM DIESEL

3.0t High Roof Van 7G-Tronic

Call Us

£587.99pm

£597.99pm

£478.99pm

£506.99pm

£413.99pm

£447.99pm

Call Us

View

details

SPRINTER 316CDI L1 DIESEL RWD

3.5t Crew Cab Dropside 7G-Tronic

Call Us

£574.99pm

£506.99pm

£484.99pm

£450.99pm

£428.99pm

£413.99pm

Call Us

View

details

SPRINTER 316CDI L3 DIESEL RWD

3.5t H3 Van 7G-Tronic

Call Us

£560.99pm

£738.99pm

£472.99pm

£626.99pm

£414.99pm

£559.99pm

Call Us

View

details

SPRINTER 214CDI MEDIUM DIESEL

3.0t Super High Roof Van

Call Us

£601.99pm

£604.99pm

£486.99pm

£510.99pm

£414.99pm

£450.99pm

Call Us

View

details

SPRINTER 311CDI SHORT DIESEL

3.5t BlueEFFICIENCY Van

Call Us

£588.99pm

£611.99pm

£479.99pm

£513.99pm

£414.99pm

£454.99pm

Call Us

View

details

SPRINTER 216CDI MEDIUM DIESEL

3.0t BlueEFFICIENCY Van 7G-Tronic

Call Us

£590.99pm

£603.99pm

£480.99pm

£509.99pm

£414.99pm

£450.99pm

Call Us

View

details

SPRINTER 211CDI MEDIUM DIESEL

3.0t Super High Roof Van

Call Us

£596.99pm

£599.99pm

£482.99pm

£505.99pm

£414.99pm

£445.99pm

Call Us

View

details

SPRINTER 316CDI L2 DIESEL RWD

3.5t Crew Cab Dropside 7G-Tronic

Call Us

£574.99pm

£505.99pm

£492.99pm

£452.99pm

£435.99pm

£416.99pm

Call Us

View

details

SPRINTER 211CDI MEDIUM DIESEL

3.0t BlueEFFICIENCY High Roof Van 7G-Tronic

Call Us

£594.99pm

£609.99pm

£483.99pm

£514.99pm

£416.99pm

£454.99pm

Call Us

View

details

SPRINTER 314CDI L4 DIESEL RWD

3.5t H3 Van 7G-Tronic

Call Us

£566.99pm

£739.99pm

£477.99pm

£628.99pm

£416.99pm

£561.99pm

Call Us

View

details

SPRINTER 311CDI L4 DIESEL RWD

3.5t H3 Van 7G-Tronic

Call Us

£575.99pm

£735.99pm

£480.99pm

£624.99pm

£417.99pm

£556.99pm

Call Us

View

details

SPRINTER 216CDI MEDIUM DIESEL

3.0t High Roof Van 7G-Tronic

Call Us

£613.99pm

£612.99pm

£494.99pm

£518.99pm

£419.99pm

£458.99pm

Call Us

View

details

SPRINTER 216CDI MEDIUM DIESEL

3.0t Super High Roof Van

Call Us

£613.99pm

£618.99pm

£492.99pm

£521.99pm

£419.99pm

£460.99pm

Call Us

View

details

SPRINTER 214CDI MEDIUM DIESEL

3.0t BlueEFFICIENCY High Roof Van 7G-Tronic

Call Us

£597.99pm

£613.99pm

£486.99pm

£519.99pm

£420.99pm

£458.99pm

Call Us

View

details

SPRINTER 316CDI L4 DIESEL RWD

3.5t H3 Van 7G-Tronic

Call Us

£570.99pm

£749.99pm

£481.99pm

£636.99pm

£420.99pm

£568.99pm

Call Us

View

details

SPRINTER 314CDI SHORT DIESEL

3.5t BlueEFFICIENCY Van

Call Us

£597.99pm

£618.99pm

£486.99pm

£519.99pm

£421.99pm

£459.99pm

Call Us

View

details

SPRINTER 311CDI SHORT DIESEL

3.5t High Roof Van

Call Us

£595.99pm

£621.99pm

£485.99pm

£521.99pm

£421.99pm

£461.99pm

Call Us

View

details

SPRINTER 211CDI MEDIUM DIESEL

3.0t BlueEFFICIENCY Super High Roof Van

Call Us

£607.99pm

£615.99pm

£491.99pm

£518.99pm

£422.99pm

£457.99pm

Call Us

View

details

SPRINTER 319CDI L2 DIESEL RWD

3.5t Dropside 7G-Tronic

Call Us

£581.99pm

£514.99pm

£512.99pm

£461.99pm

£450.99pm

£423.99pm

Call Us

View

details

SPRINTER 319CDI L3 DIESEL RWD

3.5t Dropside 7G-Tronic

Call Us

£570.99pm

£510.99pm

£510.99pm

£460.99pm

£458.99pm

£424.99pm

Call Us

View

details

SPRINTER 319CDI L1 DIESEL RWD

3.5t Crew Cab Dropside 7G-Tronic

Call Us

£593.99pm

£522.99pm

£498.99pm

£465.99pm

£441.99pm

£425.99pm

Call Us

View

details

SPRINTER 311CDI SHORT DIESEL

3.5t Van 7G-Tronic

Call Us

£604.99pm

£625.99pm

£493.99pm

£525.99pm

£426.99pm

£465.99pm

Call Us

View

details

SPRINTER 214CDI MEDIUM DIESEL

3.0t BlueEFFICIENCY Super High Roof Van

Call Us

£610.99pm

£620.99pm

£494.99pm

£522.99pm

£426.99pm

£461.99pm

Call Us

View

details

SPRINTER 311CDI MEDIUM DIESEL

3.5t Van

Call Us

£605.99pm

£624.99pm

£493.99pm

£524.99pm

£427.99pm

£465.99pm

Call Us

View

details

SPRINTER 314CDI SHORT DIESEL

3.5t High Roof Van

Call Us

£607.99pm

£628.99pm

£495.99pm

£527.99pm

£428.99pm

£465.99pm

Call Us

View

details

SPRINTER 316CDI SHORT DIESEL

3.5t Van

Call Us

£615.99pm

£627.99pm

£498.99pm

£525.99pm

£429.99pm

£464.99pm

Call Us

View

details

SPRINTER 216CDI MEDIUM DIESEL

3.0t BlueEFFICIENCY Super High Roof Van

Call Us

£624.99pm

£634.99pm

£505.99pm

£535.99pm

£430.99pm

£471.99pm

Call Us

View

details

SPRINTER 216CDI MEDIUM DIESEL

3.0t BlueEFFICIENCY High Roof Van 7G-Tronic

Call Us

£623.99pm

£628.99pm

£505.99pm

£530.99pm

£430.99pm

£468.99pm

Call Us

View

details

SPRINTER 314CDI SHORT DIESEL

3.5t Van 7G-Tronic

Call Us

£612.99pm

£630.99pm

£498.99pm

£529.99pm

£431.99pm

£468.99pm

Call Us

View

details

SPRINTER 314CDI MEDIUM DIESEL

3.5t Van

Call Us

£613.99pm

£630.99pm

£498.99pm

£529.99pm

£432.99pm

£468.99pm

Call Us

View

details

SPRINTER 311CDI SHORT DIESEL

3.5t Dropside

Call Us

£613.99pm

£614.99pm

£498.99pm

£526.99pm

£432.99pm

£467.99pm

Call Us

View

details

SPRINTER 311CDI SHORT DIESEL

3.5t BlueEFFICIENCY High Roof Van

Call Us

£613.99pm

£637.99pm

£499.99pm

£535.99pm

£432.99pm

£472.99pm

Call Us

View

details

SPRINTER 211CDI MEDIUM DIESEL

3.0t Super High Roof Van 7G-Tronic

Call Us

£622.99pm

£628.99pm

£503.99pm

£530.99pm

£432.99pm

£467.99pm

Call Us

View

details

SPRINTER 214CDI MEDIUM DIESEL

3.0t Super High Roof Van 7G-Tronic

Call Us

£624.99pm

£632.99pm

£506.99pm

£534.99pm

£434.99pm

£471.99pm

Call Us

View

details

SPRINTER 314CDI SHORT DIESEL

3.5t Dropside

Call Us

£614.99pm

£619.99pm

£501.99pm

£531.99pm

£434.99pm

£471.99pm

Call Us

View

details

SPRINTER 311CDI MEDIUM DIESEL

3.5t BlueEFFICIENCY Van

Call Us

£617.99pm

£640.99pm

£502.99pm

£538.99pm

£434.99pm

£475.99pm

Call Us

View

details

SPRINTER 316CDI SHORT DIESEL

3.5t BlueEFFICIENCY Van

Call Us

£623.99pm

£644.99pm

£504.99pm

£538.99pm

£434.99pm

£474.99pm

Call Us

View

details

SPRINTER 314CDI SHORT DIESEL

3.5t BlueEFFICIENCY High Roof Van

Call Us

£617.99pm

£643.99pm

£503.99pm

£539.99pm

£435.99pm

£477.99pm

Call Us

View

details

SPRINTER 319CDI L3 DIESEL RWD

3.5t H3 Van

Call Us

£597.99pm

£787.99pm

£500.99pm

£665.99pm

£436.99pm

£592.99pm

Call Us

View

details

SPRINTER 311CDI SHORT DIESEL

3.5t BlueEFFICIENCY Van 7G-Tronic

Call Us

£623.99pm

£641.99pm

£506.99pm

£538.99pm

£437.99pm

£475.99pm

Call Us

View

details

SPRINTER 314CDI MEDIUM DIESEL

3.5t Dropside

Call Us

£613.99pm

£627.99pm

£504.99pm

£538.99pm

£438.99pm

£480.99pm

Call Us

View

details

SPRINTER 311CDI MEDIUM DIESEL

3.5t Dropside

Call Us

£614.99pm

£621.99pm

£502.99pm

£533.99pm

£438.99pm

£475.99pm

Call Us

View

details

SPRINTER 216CDI MEDIUM DIESEL

3.0t Super High Roof Van 7G-Tronic

Call Us

£645.99pm

£647.99pm

£516.99pm

£546.99pm

£439.99pm

£482.99pm

Call Us

View

details

SPRINTER 314CDI SHORT DIESEL

3.5t BlueEFFICIENCY Van 7G-Tronic

Call Us

£623.99pm

£647.99pm

£508.99pm

£542.99pm

£439.99pm

£480.99pm

Call Us

View

details

SPRINTER 319CDI L2 DIESEL RWD

3.5t Crew Cab Dropside

Call Us

£624.99pm

£543.99pm

£528.99pm

£483.99pm

£464.99pm

£440.99pm

Call Us

View

details

SPRINTER 314CDI MEDIUM DIESEL

3.5t BlueEFFICIENCY Van

Call Us

£624.99pm

£646.99pm

£509.99pm

£542.99pm

£440.99pm

£480.99pm

Call Us

View

details

SPRINTER 211CDI MEDIUM DIESEL

3.0t BlueEFF Super High Roof Van 7G-Tronic

Call Us

£632.99pm

£644.99pm

£512.99pm

£542.99pm

£440.99pm

£478.99pm

Call Us

View

details

SPRINTER 311CDI MEDIUM DIESEL

3.5t High Roof Van

Call Us

£625.99pm

£649.99pm

£510.99pm

£545.99pm

£441.99pm

£482.99pm

Call Us

View

details

SPRINTER 311CDI SHORT DIESEL

3.5t BlueEFFICIENCY Dropside

Call Us

£631.99pm

£629.99pm

£512.99pm

£538.99pm

£442.99pm

£478.99pm

Call Us

View

details

SPRINTER 319CDI L3 DIESEL RWD

3.5t Crew Cab Dropside

Call Us

£616.99pm

£541.99pm

£537.99pm

£484.99pm

£471.99pm

£443.99pm

Call Us

View

details

SPRINTER 316CDI SHORT DIESEL

3.5t High Roof Van

Call Us

£636.99pm

£653.99pm

£515.99pm

£547.99pm

£443.99pm

£482.99pm

Call Us

View

details

SPRINTER 311CDI LONG DIESEL

3.5t Dropside

Call Us

£615.99pm

£604.99pm

£506.99pm

£524.99pm

£443.99pm

£471.99pm

Call Us

View

details

SPRINTER 311CDI SHORT DIESEL

3.5t High Roof Van 7G-Tronic

Call Us

£631.99pm

£650.99pm

£512.99pm

£546.99pm

£443.99pm

£483.99pm

Call Us

View

details

SPRINTER 319CDI L4 DIESEL RWD

3.5t H3 Van

Call Us

£606.99pm

£798.99pm

£509.99pm

£676.99pm

£444.99pm

£600.99pm

Call Us

View

details

SPRINTER 214CDI MEDIUM DIESEL

3.0t BlueEFF Super High Roof Van 7G-Tronic

Call Us

£636.99pm

£648.99pm

£516.99pm

£547.99pm

£444.99pm

£482.99pm

Call Us

View

details

SPRINTER 314CDI SHORT DIESEL

3.5t BlueEFFICIENCY Dropside

Call Us

£632.99pm

£635.99pm

£515.99pm

£543.99pm

£445.99pm

£483.99pm

Call Us

View

details

SPRINTER 311CDI MEDIUM DIESEL

3.5t Van 7G-Tronic

Call Us

£631.99pm

£653.99pm

£514.99pm

£549.99pm

£445.99pm

£486.99pm

Call Us

View

details

SPRINTER 314CDI LONG DIESEL

3.5t Dropside

Call Us

£615.99pm

£607.99pm

£509.99pm

£528.99pm

£445.99pm

£475.99pm

Call Us

View

details

SPRINTER 314CDI SHORT DIESEL

3.5t High Roof Van 7G-Tronic

Call Us

£632.99pm

£656.99pm

£515.99pm

£551.99pm

£446.99pm

£487.99pm

Call Us

View

details

SPRINTER 314CDI MEDIUM DIESEL

3.5t BlueEFFICIENCY Dropside

Call Us

£628.99pm

£643.99pm

£514.99pm

£552.99pm

£447.99pm

£490.99pm

Call Us

View

details

SPRINTER 314CDI MEDIUM DIESEL

3.5t High Roof Van

Call Us

£633.99pm

£655.99pm

£516.99pm

£551.99pm

£447.99pm

£487.99pm

Call Us

View

details

SPRINTER 311CDI MEDIUM DIESEL

3.5t BlueEFFICIENCY Dropside

Call Us

£632.99pm

£637.99pm

£515.99pm

£546.99pm

£447.99pm

£486.99pm

Call Us

View

details

SPRINTER 316CDI MEDIUM DIESEL

3.5t Dropside

Call Us

£623.99pm

£670.99pm

£512.99pm

£570.99pm

£448.99pm

£502.99pm

Call Us

View

details

SPRINTER 316CDI LONG DIESEL

3.5t Dropside

Call Us

£616.99pm

£655.99pm

£512.99pm

£562.99pm

£450.99pm

£500.99pm

Call Us

View

details

SPRINTER 311CDI LONG DIESEL

3.5t High Roof Van

Call Us

£637.99pm

£635.99pm

£519.99pm

£538.99pm

£450.99pm

£479.99pm

Call Us

View

details

SPRINTER 216CDI MEDIUM DIESEL

3.0t BlueEFF Super High Roof Van 7G-Tronic

Call Us

£658.99pm

£662.99pm

£530.99pm

£558.99pm

£450.99pm

£492.99pm

Call Us

View

details

SPRINTER 316CDI SHORT DIESEL

3.5t Dropside

Call Us

£642.99pm

£662.99pm

£520.99pm

£561.99pm

£450.99pm

£495.99pm

Call Us

View

details

SPRINTER 316CDI SHORT DIESEL

3.5t BlueEFFICIENCY High Roof Van

Call Us

£643.99pm

£670.99pm

£521.99pm

£559.99pm

£450.99pm

£492.99pm

Call Us

View

details

SPRINTER 311CDI MEDIUM DIESEL

3.5t BlueEFFICIENCY High Roof Van

Call Us

£638.99pm

£666.99pm

£520.99pm

£558.99pm

£450.99pm

£493.99pm

Call Us

View

details

SPRINTER 316CDI MEDIUM DIESEL

3.5t Van

Call Us

£647.99pm

£656.99pm

£523.99pm

£550.99pm

£450.99pm

£485.99pm

Call Us

View

details

SPRINTER 314CDI MEDIUM DIESEL

3.5t Van 7G-Tronic

Call Us

£638.99pm

£658.99pm

£520.99pm

£554.99pm

£450.99pm

£489.99pm

Call Us

View

details

SPRINTER 319CDI L3 DIESEL RWD

3.5t Crew Cab Dropside 7G-Tronic

Call Us

£611.99pm

£540.99pm

£539.99pm

£489.99pm

£485.99pm

£450.99pm

Call Us

View

details

SPRINTER 311CDI SHORT DIESEL

3.5t Dropside 7G-Tronic

Call Us

£641.99pm

£640.99pm

£522.99pm

£548.99pm

£450.99pm

£487.99pm

Call Us

View

details

SPRINTER 316CDI SHORT DIESEL

3.5t Van 7G-Tronic

Call Us

£652.99pm

£657.99pm

£525.99pm

£550.99pm

£451.99pm

£485.99pm

Call Us

View

details

SPRINTER 311CDI MEDIUM DIESEL

3.5t BlueEFFICIENCY Van 7G-Tronic

Call Us

£642.99pm

£669.99pm

£524.99pm

£562.99pm

£452.99pm

£496.99pm

Call Us

View

details

SPRINTER 319CDI L3 DIESEL RWD

3.5t H3 Van 7G-Tronic

Call Us

£621.99pm

£812.99pm

£520.99pm

£686.99pm

£452.99pm

£611.99pm

Call Us

View

details

SPRINTER 311CDI LONG DIESEL

3.5t BlueEFFICIENCY Dropside

Call Us

£633.99pm

£620.99pm

£520.99pm

£538.99pm

£453.99pm

£482.99pm

Call Us

View

details

SPRINTER 311CDI SHORT DIESEL

3.5t BlueEFFICIENCY High Roof Van 7G-Tronic

Call Us

£649.99pm

£666.99pm

£526.99pm

£558.99pm

£453.99pm

£493.99pm

Call Us

View

details

SPRINTER 314CDI SHORT DIESEL

3.5t Dropside 7G-Tronic

Call Us

£642.99pm

£646.99pm

£524.99pm

£553.99pm

£453.99pm

£492.99pm

Call Us

View

details

SPRINTER 319CDI L2 DIESEL RWD

3.5t Crew Cab Dropside 7G-Tronic

Call Us

£642.99pm

£560.99pm

£543.99pm

£498.99pm

£478.99pm

£454.99pm

Call Us

View

details

SPRINTER 314CDI MEDIUM DIESEL

3.5t BlueEFFICIENCY High Roof Van

Call Us

£645.99pm

£671.99pm

£525.99pm

£563.99pm

£454.99pm

£497.99pm

Call Us

View

details

SPRINTER 314CDI SHORT DIESEL

3.5t BlueEFFICIENCY High Roof Van 7G-Tronic

Call Us

£644.99pm

£672.99pm

£525.99pm

£564.99pm

£454.99pm

£498.99pm

Call Us

View

details

SPRINTER 314CDI LONG DIESEL

3.5t High Roof Van

Call Us

£645.99pm

£638.99pm

£525.99pm

£541.99pm

£454.99pm

£483.99pm

Call Us

View

details

SPRINTER 316CDI MEDIUM DIESEL

3.5t BlueEFFICIENCY Van

Call Us

£654.99pm

£672.99pm

£529.99pm

£562.99pm

£455.99pm

£495.99pm

Call Us

View

details

SPRINTER 314CDI LONG DIESEL

3.5t BlueEFFICIENCY Dropside

Call Us

£633.99pm

£624.99pm

£522.99pm

£541.99pm

£455.99pm

£487.99pm

Call Us

View

details

SPRINTER 316CDI SHORT DIESEL

3.5t BlueEFFICIENCY Van 7G-Tronic

Call Us

£659.99pm

£673.99pm

£532.99pm

£563.99pm

£457.99pm

£495.99pm

Call Us

View

details

SPRINTER 311CDI LONG DIESEL

3.5t BlueEFFICIENCY High Roof Van

Call Us

£649.99pm

£651.99pm

£528.99pm

£550.99pm

£457.99pm

£489.99pm

Call Us

View

details

SPRINTER 311CDI MEDIUM DIESEL

3.5t Dropside 7G-Tronic

Call Us

£643.99pm

£648.99pm

£525.99pm

£556.99pm

£458.99pm

£495.99pm

Call Us

View

details

SPRINTER 314CDI MEDIUM DIESEL

3.5t BlueEFFICIENCY Van 7G-Tronic

Call Us

£650.99pm

£674.99pm

£529.99pm

£566.99pm

£458.99pm

£500.99pm

Call Us

View

details

SPRINTER 311CDI EXTRA LONG DIESEL

3.5t High Roof Van

Call Us

£650.99pm

£673.99pm

£529.99pm

£565.99pm

£458.99pm

£500.99pm

Call Us

View

details

SPRINTER 316CDI MEDIUM DIESEL

3.5t BlueEFFICIENCY Dropside

Call Us

£641.99pm

£686.99pm

£526.99pm

£582.99pm

£459.99pm

£513.99pm

Call Us

View

details

SPRINTER 311CDI MEDIUM DIESEL

3.5t High Roof Van 7G-Tronic

Call Us

£652.99pm

£678.99pm

£530.99pm

£570.99pm

£459.99pm

£504.99pm

Call Us

View

details

SPRINTER 316CDI MEDIUM DIESEL

3.5t Crew Cab

Call Us

£650.99pm

£681.99pm

£530.99pm

£577.99pm

£460.99pm

£508.99pm

Call Us

View

details

SPRINTER 314CDI MEDIUM DIESEL

3.5t Dropside 7G-Tronic

Call Us

£643.99pm

£652.99pm

£527.99pm

£561.99pm

£460.99pm

£500.99pm

Call Us

View

details

SPRINTER 311CDI MEDIUM DIESEL

3.5t Super High Roof Van

Call Us

£652.99pm

£684.99pm

£531.99pm

£573.99pm

£460.99pm

£506.99pm

Call Us

View

details

SPRINTER 319CDI L4 DIESEL RWD

3.5t H3 Van 7G-Tronic

Call Us

£630.99pm

£824.99pm

£527.99pm

£697.99pm

£460.99pm

£620.99pm

Call Us

View

details

SPRINTER 316CDI SHORT DIESEL

3.5t BlueEFFICIENCY Dropside

Call Us

£660.99pm

£678.99pm

£534.99pm

£573.99pm

£460.99pm

£506.99pm

Call Us

View

details

SPRINTER 311CDI SHORT DIESEL

3.5t BlueEFFICIENCY Dropside 7G-Tronic

Call Us

£659.99pm

£656.99pm

£535.99pm

£561.99pm

£461.99pm

£498.99pm

Call Us

View

details

SPRINTER 316CDI LONG DIESEL

3.5t BlueEFFICIENCY Dropside

Call Us

£635.99pm

£672.99pm

£525.99pm

£575.99pm

£461.99pm

£511.99pm

Call Us

View

details

SPRINTER 316CDI LONG DIESEL

3.5t Crew Cab

Call Us

£643.99pm

£669.99pm

£529.99pm

£571.99pm

£462.99pm

£507.99pm

Call Us

View

details

SPRINTER 311CDI MEDIUM DIESEL

3.5t Crew Cab Dropside

Call Us

£652.99pm

£666.99pm

£533.99pm

£571.99pm

£463.99pm

£508.99pm

Call Us

View

details

SPRINTER 311CDI LONG DIESEL

3.5t Dropside 7G-Tronic

Call Us

£644.99pm

£629.99pm

£529.99pm

£546.99pm

£463.99pm

£490.99pm

Call Us

View

details

SPRINTER 314CDI EXTRA LONG DIESEL

3.5t High Roof Van

Call Us

£657.99pm

£676.99pm

£536.99pm

£569.99pm

£463.99pm

£504.99pm

Call Us

View

details

SPRINTER 314CDI LONG DIESEL

3.5t BlueEFFICIENCY High Roof Van

Call Us

£656.99pm

£655.99pm

£535.99pm

£554.99pm

£463.99pm

£493.99pm

Call Us

View

details

SPRINTER 314CDI SHORT DIESEL

3.5t Crew Cab Dropside

Call Us

£660.99pm

£663.99pm

£537.99pm

£568.99pm

£464.99pm

£505.99pm

Call Us

View

details

SPRINTER 314CDI SHORT DIESEL

3.5t BlueEFFICIENCY Dropside 7G-Tronic

Call Us

£661.99pm

£661.99pm

£537.99pm

£566.99pm

£464.99pm

£503.99pm

Call Us

View

details

SPRINTER 314CDI MEDIUM DIESEL

3.5t High Roof Van 7G-Tronic

Call Us

£658.99pm

£683.99pm

£537.99pm

£574.99pm

£464.99pm

£508.99pm

Call Us

View

details

SPRINTER 319CDI SHORT DIESEL

3.5t Van

Call Us

£660.99pm

£689.99pm

£537.99pm

£577.99pm

£464.99pm

£508.99pm

Call Us

View

details

SPRINTER 316CDI MEDIUM DIESEL

3.5t High Roof Van

Call Us

£668.99pm

£682.99pm

£539.99pm

£571.99pm

£464.99pm

£503.99pm

Call Us

View

details

SPRINTER 314CDI MEDIUM DIESEL

3.5t Crew Cab Dropside

Call Us

£652.99pm

£671.99pm

£535.99pm

£575.99pm

£465.99pm

£512.99pm

Call Us

View

details

SPRINTER 314CDI LONG DIESEL

3.5t Dropside 7G-Tronic

Call Us

£644.99pm

£632.99pm

£532.99pm

£550.99pm

£465.99pm

£494.99pm

Call Us

View

details

SPRINTER 314CDI MEDIUM DIESEL

3.5t Super High Roof Van

Call Us

£659.99pm

£689.99pm

£537.99pm

£578.99pm

£465.99pm

£510.99pm

Call Us

View

details

SPRINTER 311CDI SHORT DIESEL

3.5t Crew Cab Dropside

Call Us

£665.99pm

£658.99pm

£537.99pm

£563.99pm

£465.99pm

£500.99pm

Call Us

View

details

SPRINTER 314CDI MEDIUM DIESEL

3.5t BlueEFFICIENCY Dropside 7G-Tronic

Call Us

£657.99pm

£668.99pm

£537.99pm

£573.99pm

£466.99pm

£510.99pm

Call Us

View

details

SPRINTER 316CDI SHORT DIESEL

3.5t High Roof Van 7G-Tronic

Call Us

£672.99pm

£683.99pm

£542.99pm

£572.99pm

£466.99pm

£503.99pm

Call Us

View

details

SPRINTER 316CDI MEDIUM DIESEL

3.5t Van 7G-Tronic

Call Us

£683.99pm

£685.99pm

£549.99pm

£573.99pm

£466.99pm

£506.99pm

Call Us

View

details

SPRINTER 316CDI LONG DIESEL

3.5t High Roof Van

Call Us

£671.99pm

£668.99pm

£544.99pm

£563.99pm

£467.99pm

£499.99pm

Call Us

View

details

SPRINTER 311CDI EXTRA LONG DIESEL

3.5t BlueEFFICIENCY High Roof Van

Call Us

£661.99pm

£689.99pm

£539.99pm

£577.99pm

£467.99pm

£510.99pm

Call Us

View

details

SPRINTER 316CDI MEDIUM DIESEL

3.5t Dropside 7G-Tronic

Call Us

£652.99pm

£703.99pm

£537.99pm

£595.99pm

£467.99pm

£525.99pm

Call Us

View

details

SPRINTER 311CDI LONG DIESEL

3.5t High Roof Van 7G-Tronic

Call Us

£663.99pm

£662.99pm

£540.99pm

£560.99pm

£467.99pm

£499.99pm

Call Us

View

details

SPRINTER 311CDI MEDIUM DIESEL

3.5t BlueEFFICIENCY High Roof Van 7G-Tronic

Call Us

£662.99pm

£694.99pm

£540.99pm

£583.99pm

£467.99pm

£514.99pm

Call Us

View

details

SPRINTER 311CDI MEDIUM DIESEL

3.5t BlueEFFICIENCY Dropside 7G-Tronic

Call Us

£662.99pm

£664.99pm

£539.99pm

£569.99pm

£468.99pm

£506.99pm

Call Us

View

details

SPRINTER 311CDI LONG DIESEL

3.5t Super High Roof Van

Call Us

£664.99pm

£669.99pm

£541.99pm

£565.99pm

£468.99pm

£502.99pm

Call Us

View

details

SPRINTER 319CDI SHORT DIESEL

3.5t BlueEFFICIENCY Van

Call Us

£668.99pm

£696.99pm

£542.99pm

£583.99pm

£468.99pm

£513.99pm

Call Us

View

details

SPRINTER 316CDI SHORT DIESEL

3.5t Dropside 7G-Tronic

Call Us

£671.99pm

£694.99pm

£544.99pm

£588.99pm

£469.99pm

£517.99pm

Call Us

View

details

SPRINTER 316CDI LONG DIESEL

3.5t Dropside 7G-Tronic

Call Us

£646.99pm

£687.99pm

£536.99pm

£589.99pm

£469.99pm

£523.99pm

Call Us

View

details

SPRINTER 316CDI MEDIUM DIESEL

3.5t BlueEFFICIENCY High Roof Van

Call Us

£674.99pm

£697.99pm

£546.99pm

£583.99pm

£470.99pm

£513.99pm

Call Us

View

details

SPRINTER 316CDI MEDIUM DIESEL

3.5t BlueEFFICIENCY Crew Cab

Call Us

£668.99pm

£698.99pm

£544.99pm

£590.99pm

£470.99pm

£519.99pm

Call Us

View

details

SPRINTER 311CDI LONG DIESEL

3.5t Crew Cab Dropside

Call Us

£659.99pm

£647.99pm

£540.99pm

£561.99pm

£471.99pm

£504.99pm

Call Us

View

details

SPRINTER 314CDI EXTRA LONG DIESEL

3.5t BlueEFFICIENCY High Roof Van

Call Us

£669.99pm

£693.99pm

£545.99pm

£582.99pm

£471.99pm

£514.99pm

Call Us

View

details

SPRINTER 316CDI SHORT DIESEL

3.5t BlueEFFICIENCY High Roof Van 7G-Tronic

Call Us

£679.99pm

£699.99pm

£549.99pm

£584.99pm

£471.99pm

£513.99pm

Call Us

View

details

SPRINTER 316CDI LONG DIESEL

3.5t BlueEFFICIENCY Crew Cab

Call Us

£661.99pm

£684.99pm

£543.99pm

£584.99pm

£472.99pm

£518.99pm

Call Us

View

details

SPRINTER 314CDI MEDIUM DIESEL

3.5t BlueEFFICIENCY High Roof Van 7G-Tronic

Call Us

£671.99pm

£700.99pm

£546.99pm

£588.99pm

£472.99pm

£519.99pm

Call Us

View

details

SPRINTER 311CDI SHORT DIESEL

3.5t BlueEFFICIENCY Crew Cab Dropside

Call Us

£676.99pm

£675.99pm

£548.99pm

£576.99pm

£472.99pm

£510.99pm

Call Us

View

details

SPRINTER 314CDI LONG DIESEL

3.5t High Roof Van 7G-Tronic

Call Us

£671.99pm

£666.99pm

£547.99pm

£565.99pm

£473.99pm

£503.99pm

Call Us

View

details

SPRINTER 311CDI MEDIUM DIESEL

3.5t BlueEFFICIENCY Crew Cab Dropside

Call Us

£671.99pm

£682.99pm

£547.99pm

£584.99pm

£473.99pm

£519.99pm

Call Us

View

details

SPRINTER 314CDI MEDIUM DIESEL

3.5t BlueEFFICIENCY Super High Roof Van

Call Us

£671.99pm

£704.99pm

£547.99pm

£591.99pm

£473.99pm

£521.99pm

Call Us

View

details

SPRINTER 311CDI LONG DIESEL

3.5t BlueEFFICIENCY Dropside 7G-Tronic

Call Us

£662.99pm

£645.99pm

£543.99pm

£559.99pm

£473.99pm

£502.99pm

Call Us

View

details

SPRINTER 314CDI LONG DIESEL

3.5t Super High Roof Van

Call Us

£671.99pm

£673.99pm

£547.99pm

£569.99pm

£473.99pm

£506.99pm

Call Us

View

details

SPRINTER 316CDI LONG DIESEL

3.5t BlueEFFICIENCY High Roof Van

Call Us

£677.99pm

£683.99pm

£550.99pm

£575.99pm

£474.99pm

£510.99pm

Call Us

View

details

SPRINTER 314CDI LONG DIESEL

3.5t Crew Cab Dropside

Call Us

£659.99pm

£647.99pm

£543.99pm

£565.99pm

£474.99pm

£508.99pm

Call Us

View

details

SPRINTER 314CDI LONG DIESEL

3.5t BlueEFFICIENCY Dropside 7G-Tronic

Call Us

£663.99pm

£648.99pm

£546.99pm

£563.99pm

£474.99pm

£505.99pm

Call Us

View

details

SPRINTER 311CDI LONG DIESEL

3.5t BlueEFFICIENCY High Roof Van 7G-Tronic

Call Us

£674.99pm

£678.99pm

£550.99pm

£573.99pm

£475.99pm

£509.99pm

Call Us

View

details

SPRINTER 311CDI MEDIUM DIESEL

3.5t BlueEFFICIENCY Super High Roof Van

Call Us

£681.99pm

£701.99pm

£553.99pm

£587.99pm

£475.99pm

£517.99pm

Call Us

View

details

SPRINTER 316CDI EXTRA LONG DIESEL

3.5t High Roof Van

Call Us

£677.99pm

£703.99pm

£550.99pm

£590.99pm

£475.99pm

£520.99pm

Call Us

View

details

SPRINTER 314CDI SHORT DIESEL

3.5t BlueEFFICIENCY Crew Cab Dropside

Call Us

£678.99pm

£680.99pm

£551.99pm

£581.99pm

£475.99pm

£515.99pm

Call Us

View

details

SPRINTER 314CDI MEDIUM DIESEL

3.5t BlueEFFICIENCY Crew Cab Dropside

Call Us

£671.99pm

£688.99pm

£549.99pm

£589.99pm

£476.99pm

£523.99pm

Call Us

View

details

SPRINTER 311CDI LONG DIESEL

3.5t BlueEFFICIENCY Super High Roof Van

Call Us

£675.99pm

£685.99pm

£550.99pm

£578.99pm

£476.99pm

£513.99pm

Call Us

View

details

SPRINTER 311CDI EXTRA LONG DIESEL

3.5t High Roof Van 7G-Tronic

Call Us

£676.99pm

£700.99pm

£551.99pm

£588.99pm

£476.99pm

£520.99pm

Call Us

View

details

SPRINTER 311CDI EXTRA LONG DIESEL

3.5t Super High Roof Van

Call Us

£677.99pm

£706.99pm

£551.99pm

£592.99pm

£477.99pm

£523.99pm

Call Us

View

details

SPRINTER 319CDI SHORT DIESEL

3.5t High Roof Van

Call Us

£677.99pm

£713.99pm

£552.99pm

£598.99pm

£477.99pm

£527.99pm

Call Us

View

details

SPRINTER 316CDI MEDIUM DIESEL

3.5t Crew Cab Dropside

Call Us

£666.99pm

£715.99pm

£548.99pm

£607.99pm

£478.99pm

£535.99pm

Call Us

View

details

SPRINTER 316CDI MEDIUM DIESEL

3.5t BlueEFFICIENCY Van 7G-Tronic

Call Us

£690.99pm

£702.99pm

£556.99pm

£587.99pm

£478.99pm

£517.99pm

Call Us

View

details

SPRINTER 311CDI MEDIUM DIESEL

3.5t Super High Roof Van 7G-Tronic

Call Us

£678.99pm

£713.99pm

£553.99pm

£598.99pm

£478.99pm

£528.99pm

Call Us

View

details

SPRINTER 316CDI LONG DIESEL

3.5t Crew Cab Dropside

Call Us

£661.99pm

£699.99pm

£547.99pm

£599.99pm

£479.99pm

£532.99pm

Call Us

View

details

SPRINTER 316CDI MEDIUM DIESEL

3.5t BlueEFFICIENCY Dropside 7G-Tronic

Call Us

£671.99pm

£718.99pm

£550.99pm

£609.99pm

£479.99pm

£536.99pm

Call Us

View

details

SPRINTER 316CDI SHORT DIESEL

3.5t Crew Cab Dropside

Call Us

£685.99pm

£706.99pm

£554.99pm

£598.99pm

£479.99pm

£527.99pm

Call Us

View

details

SPRINTER 316CDI SHORT DIESEL

3.5t BlueEFFICIENCY Dropside 7G-Tronic

Call Us

£690.99pm

£710.99pm

£557.99pm

£600.99pm

£480.99pm

£529.99pm

Call Us

View

details

SPRINTER 316CDI MEDIUM DIESEL

3.5t Crew Cab 7G-Tronic

Call Us

£680.99pm

£715.99pm

£554.99pm

£604.99pm

£480.99pm

£531.99pm

Call Us

View

details

SPRINTER 319CDI MEDIUM DIESEL

3.5t Van

Call Us

£681.99pm

£716.99pm

£555.99pm

£600.99pm

£480.99pm

£529.99pm

Call Us

View

details

SPRINTER 311CDI SHORT DIESEL

3.5t Crew Cab Dropside 7G-Tronic

Call Us

£686.99pm

£685.99pm

£557.99pm

£586.99pm

£481.99pm

£521.99pm

Call Us

View

details

SPRINTER 316CDI LONG DIESEL

3.5t BlueEFFICIENCY Dropside 7G-Tronic

Call Us

£664.99pm

£703.99pm

£549.99pm

£602.99pm

£481.99pm

£533.99pm

Call Us

View

details

SPRINTER 314CDI LONG DIESEL

3.5t BlueEFFICIENCY High Roof Van 7G-Tronic

Call Us

£682.99pm

£682.99pm

£556.99pm

£577.99pm

£481.99pm

£514.99pm

Call Us

View

details

SPRINTER 316CDI LONG DIESEL

3.5t Crew Cab 7G-Tronic

Call Us

£673.99pm

£700.99pm

£553.99pm

£596.99pm

£482.99pm

£529.99pm

Call Us

View

details

SPRINTER 314CDI EXTRA LONG DIESEL

3.5t High Roof Van 7G-Tronic

Call Us

£683.99pm

£705.99pm

£557.99pm

£593.99pm

£482.99pm

£525.99pm

Call Us

View

details

SPRINTER 314CDI EXTRA LONG DIESEL

3.5t Super High Roof Van

Call Us

£684.99pm

£711.99pm

£557.99pm

£597.99pm

£482.99pm

£528.99pm

Call Us

View

details

SPRINTER 311CDI MEDIUM DIESEL

3.5t Crew Cab Dropside 7G-Tronic

Call Us

£681.99pm

£692.99pm

£556.99pm

£594.99pm

£482.99pm

£528.99pm

Call Us

View

details

SPRINTER 314CDI LONG DIESEL

3.5t BlueEFFICIENCY Super High Roof Van

Call Us

£683.99pm

£689.99pm

£556.99pm

£582.99pm

£482.99pm

£517.99pm

Call Us

View

details

SPRINTER 314CDI SHORT DIESEL

3.5t Crew Cab Dropside 7G-Tronic

Call Us

£687.99pm

£689.99pm

£559.99pm

£591.99pm

£483.99pm

£525.99pm

Call Us

View

details

SPRINTER 311CDI LONG DIESEL

3.5t BlueEFFICIENCY Crew Cab Dropside

Call Us

£677.99pm

£662.99pm

£554.99pm

£573.99pm

£483.99pm

£514.99pm

Call Us

View

details

SPRINTER 314CDI MEDIUM DIESEL

3.5t Super High Roof Van 7G-Tronic

Call Us

£684.99pm

£718.99pm

£558.99pm

£603.99pm

£483.99pm

£531.99pm

Call Us

View

details

SPRINTER 314CDI MEDIUM DIESEL

3.5t Crew Cab Dropside 7G-Tronic

Call Us

£681.99pm

£697.99pm

£557.99pm

£598.99pm

£484.99pm

£532.99pm

Call Us

View

details

SPRINTER 319CDI MEDIUM DIESEL

3.5t BlueEFFICIENCY Van

Call Us

£687.99pm

£722.99pm

£559.99pm

£606.99pm

£484.99pm

£533.99pm

Call Us

View

details

SPRINTER 311CDI EXTRA LONG DIESEL

3.5t BlueEFFICIENCY High Roof Van 7G-Tronic

Call Us

£687.99pm

£717.99pm

£560.99pm

£601.99pm

£485.99pm

£530.99pm

Call Us

View

details

SPRINTER 311CDI EXTRA LONG DIESEL

3.5t BlueEFFICIENCY Super High Roof Van

Call Us

£687.99pm

£722.99pm

£560.99pm

£605.99pm

£485.99pm

£534.99pm

Call Us

View

details

SPRINTER 316CDI MEDIUM DIESEL

3.5t Super High Roof Van

Call Us

£698.99pm

£717.99pm

£564.99pm

£599.99pm

£485.99pm

£527.99pm

Call Us

View

details

SPRINTER 319CDI SHORT DIESEL

3.5t Van 7G-Tronic

Call Us

£695.99pm

£717.99pm

£564.99pm

£601.99pm

£485.99pm

£530.99pm

Call Us

View

details

SPRINTER 316CDI MEDIUM DIESEL

3.5t High Roof Van 7G-Tronic

Call Us

£703.99pm

£710.99pm

£566.99pm

£594.99pm

£485.99pm

£524.99pm

Call Us

View

details

SPRINTER 316CDI LONG DIESEL

3.5t High Roof Van 7G-Tronic

Call Us

£706.99pm

£694.99pm

£571.99pm

£586.99pm

£486.99pm

£520.99pm

Call Us

View

details

SPRINTER 311CDI LONG DIESEL

3.5t Super High Roof Van 7G-Tronic

Call Us

£690.99pm

£696.99pm

£562.99pm

£588.99pm

£486.99pm

£523.99pm

Call Us

View

details

SPRINTER 316CDI LONG DIESEL

3.5t Super High Roof Van

Call Us

£696.99pm

£702.99pm

£565.99pm

£591.99pm

£486.99pm

£523.99pm

Call Us

View

details

SPRINTER 314CDI LONG DIESEL

3.5t BlueEFFICIENCY Crew Cab Dropside

Call Us

£677.99pm

£662.99pm

£557.99pm

£578.99pm

£486.99pm

£518.99pm

Call Us

View

details

SPRINTER 319CDI SHORT DIESEL

3.5t BlueEFFICIENCY High Roof Van

Call Us

£699.99pm

£720.99pm

£566.99pm

£603.99pm

£487.99pm

£531.99pm

Call Us

View

details

SPRINTER 316CDI EXTRA LONG DIESEL

3.5t BlueEFFICIENCY High Roof Van

Call Us

£701.99pm

£719.99pm

£567.99pm

£602.99pm

£487.99pm

£530.99pm

Call Us

View

details

SPRINTER 316CDI MEDIUM DIESEL

3.5t BlueEFFICIENCY Crew Cab Dropside

Call Us

£685.99pm

£730.99pm

£561.99pm

£620.99pm

£488.99pm

£546.99pm

Call Us

View

details

SPRINTER 314CDI EXTRA LONG DIESEL

3.5t BlueEFFICIENCY High Roof Van 7G-Tronic

Call Us

£695.99pm

£721.99pm

£566.99pm

£606.99pm

£489.99pm

£536.99pm

Call Us

View

details

SPRINTER 316CDI SHORT DIESEL

3.5t BlueEFFICIENCY Crew Cab 7G-Tronic

Call Us

£710.99pm

£721.99pm

£571.99pm

£608.99pm

£489.99pm

£534.99pm

Call Us

View

details

SPRINTER 314CDI EXTRA LONG DIESEL

3.5t BlueEFFICIENCY Super High Roof Van

Call Us

£696.99pm

£728.99pm

£566.99pm

£610.99pm

£490.99pm

£539.99pm

Call Us

View

details

SPRINTER 311CDI LONG DIESEL

3.5t Crew Cab Dropside 7G-Tronic

Call Us

£688.99pm

£667.99pm

£565.99pm

£583.99pm

£490.99pm

£523.99pm

Call Us

View

details

SPRINTER 316CDI LONG DIESEL

3.5t BlueEFFICIENCY Crew Cab Dropside

Call Us

£679.99pm

£715.99pm

£560.99pm

£611.99pm

£490.99pm

£543.99pm

Call Us

View

details

SPRINTER 319CDI SHORT DIESEL

3.5t BlueEFFICIENCY Van 7G-Tronic

Call Us

£702.99pm

£723.99pm

£569.99pm

£607.99pm

£490.99pm

£534.99pm

Call Us

View

details

SPRINTER 316CDI MEDIUM DIESEL

3.5t BlueEFFICIENCY Crew Cab 7G-Tronic

Call Us

£698.99pm

£730.99pm

£567.99pm

£616.99pm

£490.99pm

£542.99pm

Call Us

View

details

SPRINTER 316CDI SHORT DIESEL

3.5t BlueEFFICIENCY Crew Cab Dropside

Call Us

£703.99pm

£722.99pm

£568.99pm

£611.99pm

£490.99pm

£538.99pm

Call Us

View

details

SPRINTER 314CDI LONG DIESEL

3.5t Super High Roof Van 7G-Tronic

Call Us

£697.99pm

£701.99pm

£568.99pm

£592.99pm

£491.99pm

£527.99pm

Call Us

View

details

SPRINTER 311CDI MEDIUM DIESEL

3.5t BlueEFF Crew Cab Dropside 7G-Tronic

Call Us

£697.99pm

£707.99pm

£568.99pm

£607.99pm

£492.99pm

£538.99pm

Call Us

View

details

SPRINTER 314CDI LONG DIESEL

3.5t Crew Cab Dropside 7G-Tronic

Call Us

£689.99pm

£670.99pm

£566.99pm

£582.99pm

£492.99pm

£527.99pm

Call Us

View

details

SPRINTER 316CDI LONG DIESEL

3.5t BlueEFFICIENCY Crew Cab 7G-Tronic

Call Us

£691.99pm

£715.99pm

£566.99pm

£609.99pm

£492.99pm

£540.99pm

Call Us

View

details

SPRINTER 316CDI MEDIUM DIESEL

3.5t BlueEFFICIENCY High Roof Van 7G-Tronic

Call Us

£710.99pm

£727.99pm

£573.99pm

£608.99pm

£492.99pm

£534.99pm

Call Us

View

details

SPRINTER 319CDI SHORT DIESEL

3.5t Dropside

Call Us

£707.99pm

£702.99pm

£572.99pm

£600.99pm

£492.99pm

£531.99pm

Call Us

View

details

SPRINTER 316CDI MEDIUM DIESEL

3.5t BlueEFFICIENCY Super High Roof Van

Call Us

£710.99pm

£733.99pm

£573.99pm

£611.99pm

£493.99pm

£538.99pm

Call Us

View

details

SPRINTER 319CDI MEDIUM DIESEL

3.5t Dropside

Call Us

£701.99pm

£709.99pm

£571.99pm

£607.99pm

£493.99pm

£539.99pm

Call Us

View

details

SPRINTER 314CDI SHORT DIESEL

3.5t BlueEFF Crew Cab Dropside 7G-Tronic

Call Us

£705.99pm

£705.99pm

£572.99pm

£604.99pm

£494.99pm

£536.99pm

Call Us

View

details

SPRINTER 311CDI MEDIUM DIESEL

3.5t BlueEFF Super High Roof Van 7G-Tronic

Call Us

£709.99pm

£730.99pm

£574.99pm

£611.99pm

£494.99pm

£538.99pm

Call Us

View

details

SPRINTER 311CDI LONG DIESEL

3.5t BlueEFFICIENCY Super H/R Van 7G-Tronic

Call Us

£701.99pm

£712.99pm

£571.99pm

£601.99pm

£494.99pm

£533.99pm

Call Us

View

details

SPRINTER 314CDI MEDIUM DIESEL

3.5t BlueEFF Crew Cab Dropside 7G-Tronic

Call Us

£699.99pm

£709.99pm

£570.99pm

£611.99pm

£495.99pm

£544.99pm

Call Us

View

details

SPRINTER 316CDI LONG DIESEL

3.5t BlueEFFICIENCY Super High Roof Van

Call Us

£708.99pm

£718.99pm

£574.99pm

£604.99pm

£495.99pm

£534.99pm

Call Us

View

details

SPRINTER 311CDI EXTRA LONG DIESEL

3.5t Super High Roof Van 7G-Tronic

Call Us

£703.99pm

£735.99pm

£572.99pm

£617.99pm

£495.99pm

£545.99pm

Call Us

View

details

SPRINTER 316CDI EXTRA LONG DIESEL

3.5t Super High Roof Van

Call Us

£707.99pm

£738.99pm

£574.99pm

£618.99pm

£495.99pm

£544.99pm

Call Us

View

details

SPRINTER 311CDI SHORT DIESEL

3.5t BlueEFF Crew Cab Dropside 7G-Tronic

Call Us

£713.99pm

£701.99pm

£574.99pm

£599.99pm

£496.99pm

£531.99pm

Call Us

View

details

SPRINTER 316CDI LONG DIESEL

3.5t BlueEFFICIENCY High Roof Van 7G-Tronic

Call Us

£711.99pm

£711.99pm

£577.99pm

£599.99pm

£497.99pm

£530.99pm

Call Us

View

details

SPRINTER 319CDI SHORT DIESEL

3.5t BlueEFFICIENCY Dropside

Call Us

£714.99pm

£709.99pm

£578.99pm

£605.99pm

£497.99pm

£536.99pm

Call Us

View

details

SPRINTER 316CDI EXTRA LONG DIESEL

3.5t High Roof Van 7G-Tronic

Call Us

£712.99pm

£732.99pm

£577.99pm

£613.99pm

£497.99pm

£541.99pm

Call Us

View

details

SPRINTER 316CDI MEDIUM DIESEL

3.5t Crew Cab Dropside 7G-Tronic

Call Us

£696.99pm

£747.99pm

£571.99pm

£634.99pm

£498.99pm

£558.99pm

Call Us

View

details

SPRINTER 319CDI MEDIUM DIESEL

3.5t Van 7G-Tronic

Call Us

£707.99pm

£744.99pm

£576.99pm

£625.99pm

£498.99pm

£551.99pm

Call Us

View

details

SPRINTER 319CDI MEDIUM DIESEL

3.5t BlueEFFICIENCY Dropside

Call Us

£709.99pm

£716.99pm

£577.99pm

£612.99pm

£498.99pm

£544.99pm

Call Us

View

details

SPRINTER 314CDI MEDIUM DIESEL

3.5t BlueEFF Super High Roof Van 7G-Tronic

Call Us

£716.99pm

£733.99pm

£580.99pm

£615.99pm

£499.99pm

£543.99pm

Call Us

View

details

SPRINTER 319CDI SHORT DIESEL

3.5t High Roof Van 7G-Tronic

Call Us

£712.99pm

£744.99pm

£578.99pm

£622.99pm

£499.99pm

£549.99pm

Call Us

View

details

SPRINTER 316CDI SHORT DIESEL

3.5t Crew Cab Dropside 7G-Tronic

Call Us

£715.99pm

£739.99pm

£579.99pm

£626.99pm

£499.99pm

£551.99pm

Call Us

View

details

SPRINTER 319CDI LONG DIESEL

3.5t Dropside

Call Us

£692.99pm

£684.99pm

£571.99pm

£591.99pm

£499.99pm

£533.99pm

Call Us

View

details

SPRINTER 316CDI LONG DIESEL

3.5t Crew Cab Dropside 7G-Tronic

Call Us

£690.99pm

£726.99pm

£570.99pm

£625.99pm

£500.99pm

£554.99pm

Call Us

View

details

SPRINTER 314CDI LONG DIESEL

3.5t BlueEFFICIENCY Super H/R Van 7G-Tronic

Call Us

£709.99pm

£713.99pm

£578.99pm

£606.99pm

£500.99pm

£538.99pm

Call Us

View

details

SPRINTER 319CDI LONG DIESEL

3.5t High Roof Van

Call Us

£708.99pm

£720.99pm

£578.99pm

£611.99pm

£500.99pm

£542.99pm

Call Us

View

details

SPRINTER 319CDI SHORT DIESEL

3.5t BlueEFF High Roof Van 7G-Tronic

Call Us

£714.99pm

£750.99pm

£580.99pm

£627.99pm

£501.99pm

£553.99pm

Call Us

View

details

SPRINTER 311CDI LONG DIESEL

3.5t BlueEFF Crew Cab Dropside 7G-Tronic

Call Us

£707.99pm

£682.99pm

£578.99pm

£591.99pm

£501.99pm

£533.99pm

Call Us

View

details

SPRINTER 314CDI EXTRA LONG DIESEL

3.5t Super High Roof Van 7G-Tronic

Call Us

£710.99pm

£740.99pm

£579.99pm

£621.99pm

£501.99pm

£549.99pm

Call Us

View

details

SPRINTER 319CDI LONG DIESEL

3.5t BlueEFFICIENCY High Roof Van

Call Us

£710.99pm

£727.99pm

£580.99pm

£617.99pm

£503.99pm

£547.99pm

Call Us

View

details

SPRINTER 319CDI MEDIUM DIESEL

3.5t High Roof Van

Call Us

£721.99pm

£741.99pm

£584.99pm

£622.99pm

£503.99pm

£548.99pm

Call Us

View

details

SPRINTER 316CDI EXTRA LONG DIESEL

3.5t BlueEFFICIENCY High Roof Van 7G-Tronic

Call Us

£719.99pm

£748.99pm

£583.99pm

£626.99pm

£503.99pm

£552.99pm

Call Us

View

details

SPRINTER 311CDI EXTRA LONG DIESEL

3.5t BlueEFF Super High Roof Van 7G-Tronic

Call Us

£715.99pm

£751.99pm

£582.99pm

£629.99pm

£503.99pm

£555.99pm

Call Us

View

details

SPRINTER 316CDI MEDIUM DIESEL

3.5t Super High Roof Van 7G-Tronic

Call Us

£734.99pm

£745.99pm

£591.99pm

£623.99pm

£505.99pm

£548.99pm

Call Us

View

details

SPRINTER 316CDI LONG DIESEL

3.5t Super High Roof Van 7G-Tronic

Call Us

£731.99pm

£729.99pm

£592.99pm

£614.99pm

£506.99pm

£544.99pm

Call Us

View

details

SPRINTER 319CDI MEDIUM DIESEL

3.5t BlueEFFICIENCY High Roof Van

Call Us

£727.99pm

£748.99pm

£588.99pm

£626.99pm

£506.99pm

£552.99pm

Call Us

View

details

SPRINTER 316CDI EXTRA LONG DIESEL

3.5t BlueEFFICIENCY Super High Roof Van

Call Us

£738.99pm

£755.99pm

£594.99pm

£630.99pm

£507.99pm

£554.99pm

Call Us

View

details

SPRINTER 316CDI MEDIUM DIESEL

3.5t BlueEFFICIENCY Crew Cab Dropside 7G-Tronic

Call Us

£714.99pm

£763.99pm

£585.99pm

£646.99pm

£508.99pm

£570.99pm

Call Us

View

details

SPRINTER 314CDI EXTRA LONG DIESEL

3.5t BlueEFF Super High Roof Van 7G-Tronic

Call Us

£721.99pm

£752.99pm

£588.99pm

£634.99pm

£508.99pm

£559.99pm

Call Us

View

details

SPRINTER 319CDI LONG DIESEL

3.5t BlueEFFICIENCY Dropside

Call Us

£711.99pm

£700.99pm

£585.99pm

£605.99pm

£509.99pm

£545.99pm

Call Us

View

details

SPRINTER 316CDI LONG DIESEL

3.5t BlueEFFICIENCY Crew Cab Dropside 7G-Tronic

Call Us

£708.99pm

£742.99pm

£584.99pm

£638.99pm

£510.99pm

£566.99pm

Call Us

View

details

SPRINTER 319CDI MEDIUM DIESEL

3.5t BlueEFFICIENCY Van 7G-Tronic

Call Us

£732.99pm

£752.99pm

£593.99pm

£630.99pm

£510.99pm

£555.99pm

Call Us

View

details

SPRINTER 316CDI SHORT DIESEL

3.5t BlueEFFICIENCY Crew Cab Dropside 7G-Tronic

Call Us

£733.99pm

£755.99pm

£593.99pm

£638.99pm

£510.99pm

£561.99pm

Call Us

View

details

SPRINTER 319CDI SHORT DIESEL

3.5t Dropside 7G-Tronic

Call Us

£734.99pm

£725.99pm

£594.99pm

£623.99pm

£511.99pm

£552.99pm

Call Us

View

details

SPRINTER 319CDI MEDIUM DIESEL

3.5t Dropside 7G-Tronic

Call Us

£728.99pm

£732.99pm

£593.99pm

£630.99pm

£512.99pm

£559.99pm

Call Us

View

details

SPRINTER 319CDI EXTRA LONG DIESEL

3.5t High Roof Van

Call Us

£727.99pm

£758.99pm

£592.99pm

£640.99pm

£512.99pm

£564.99pm

Call Us

View

details

SPRINTER 316CDI MEDIUM DIESEL

3.5t BlueEFF Super High Roof Van 7G-Tronic

Call Us

£746.99pm

£760.99pm

£601.99pm

£636.99pm

£515.99pm

£559.99pm

Call Us

View

details

SPRINTER 319CDI SHORT DIESEL

3.5t BlueEFFICIENCY Dropside 7G-Tronic

Call Us

£742.99pm

£732.99pm

£600.99pm

£628.99pm

£516.99pm

£556.99pm

Call Us

View

details

SPRINTER 316CDI EXTRA LONG DIESEL

3.5t Super High Roof Van 7G-Tronic

Call Us

£743.99pm

£767.99pm

£601.99pm

£642.99pm

£517.99pm

£565.99pm

Call Us

View

details

SPRINTER 316CDI LONG DIESEL

3.5t BlueEFF Super High Roof Van 7G-Tronic

Call Us

£744.99pm

£741.99pm

£601.99pm

£627.99pm

£517.99pm

£554.99pm

Call Us

View

details

SPRINTER 319CDI MEDIUM DIESEL

3.5t BlueEFFICIENCY Dropside 7G-Tronic

Call Us

£736.99pm

£739.99pm

£598.99pm

£631.99pm

£517.99pm

£564.99pm

Call Us

View

details

SPRINTER 319CDI LONG DIESEL

3.5t Dropside 7G-Tronic

Call Us

£722.99pm

£709.99pm

£595.99pm

£613.99pm

£519.99pm

£549.99pm

Call Us

View

details

SPRINTER 319CDI LONG DIESEL

3.5t Super High Roof Van

Call Us

£732.99pm

£755.99pm

£598.99pm

£635.99pm

£519.99pm

£563.99pm

Call Us

View

details

SPRINTER 319CDI LONG DIESEL

3.5t BlueEFFICIENCY Super High Roof Van

Call Us

£737.99pm

£761.99pm

£602.99pm

£641.99pm

£521.99pm

£567.99pm

Call Us

View

details

SPRINTER 319CDI LONG DIESEL

3.5t High Roof Van 7G-Tronic

Call Us

£739.99pm

£747.99pm

£603.99pm

£629.99pm

£521.99pm

£559.99pm

Call Us

View

details

SPRINTER 319CDI MEDIUM DIESEL

3.5t High Roof Van 7G-Tronic

Call Us

£748.99pm

£766.99pm

£606.99pm

£645.99pm

£521.99pm

£569.99pm

Call Us

View

details

SPRINTER 319CDI MEDIUM DIESEL

3.5t Crew Cab Dropside

Call Us

£745.99pm

£750.99pm

£606.99pm

£641.99pm

£522.99pm

£572.99pm

Call Us

View

details

SPRINTER 319CDI SHORT DIESEL

3.5t Crew Cab Dropside

Call Us

£751.99pm

£743.99pm

£607.99pm

£638.99pm

£522.99pm

£565.99pm

Call Us

View

details

SPRINTER 319CDI EXTRA LONG DIESEL

3.5t BlueEFFICIENCY High Roof Van

Call Us

£751.99pm

£766.99pm

£608.99pm

£645.99pm

£523.99pm

£569.99pm

Call Us

View

details

SPRINTER 319CDI LONG DIESEL

3.5t BlueEFF High Roof Van 7G-Tronic

Call Us

£743.99pm

£755.99pm

£606.99pm

£636.99pm

£524.99pm

£563.99pm

Call Us

View

details

SPRINTER 319CDI MEDIUM DIESEL

3.5t BlueEFF High Roof Van 7G-Tronic

Call Us

£754.99pm

£772.99pm

£610.99pm

£651.99pm

£525.99pm

£573.99pm

Call Us

View

details

SPRINTER 319CDI MEDIUM DIESEL

3.5t Super High Roof Van

Call Us

£758.99pm

£772.99pm

£612.99pm

£649.99pm

£526.99pm

£572.99pm

Call Us

View

details

SPRINTER 316CDI EXTRA LONG DIESEL

3.5t BlueEFF Super High Roof Van 7G-Tronic

Call Us

£756.99pm

£780.99pm

£611.99pm

£655.99pm

£526.99pm

£575.99pm

Call Us

View

details

SPRINTER 319CDI SHORT DIESEL

3.5t BlueEFFICIENCY Crew Cab Dropside

Call Us

£759.99pm

£750.99pm

£613.99pm

£644.99pm

£527.99pm

£569.99pm

Call Us

View

details

SPRINTER 319CDI MEDIUM DIESEL

3.5t BlueEFFICIENCY Crew Cab Dropside

Call Us

£752.99pm

£757.99pm

£611.99pm

£646.99pm

£527.99pm

£576.99pm

Call Us

View

details

SPRINTER 319CDI MEDIUM DIESEL

3.5t BlueEFFICIENCY Super High Roof Van

Call Us

£761.99pm

£779.99pm

£615.99pm

£655.99pm

£528.99pm

£576.99pm

Call Us

View

details

SPRINTER 319CDI LONG DIESEL

3.5t Crew Cab Dropside

Call Us

£737.99pm

£727.99pm

£606.99pm

£628.99pm

£528.99pm

£561.99pm

Call Us

View

details

SPRINTER 319CDI LONG DIESEL

3.5t BlueEFFICIENCY Dropside 7G-Tronic

Call Us

£740.99pm

£723.99pm

£608.99pm

£626.99pm

£529.99pm

£559.99pm

Call Us

View

details

SPRINTER 319CDI EXTRA LONG DIESEL

3.5t High Roof Van 7G-Tronic

Call Us

£760.99pm

£787.99pm

£618.99pm

£660.99pm

£534.99pm

£581.99pm

Call Us

View

details

SPRINTER 319CDI LONG DIESEL

3.5t Super High Roof Van 7G-Tronic

Call Us

£758.99pm

£781.99pm

£619.99pm

£658.99pm

£536.99pm

£582.99pm

Call Us

View

details

SPRINTER 319CDI EXTRA LONG DIESEL

3.5t BlueEFF High Roof Van 7G-Tronic

Call Us

£762.99pm

£795.99pm

£620.99pm

£665.99pm

£536.99pm

£586.99pm

Call Us

View

details

SPRINTER 319CDI LONG DIESEL

3.5t BlueEFFICIENCY Crew Cab Dropside

Call Us

£749.99pm

£738.99pm

£616.99pm

£637.99pm

£536.99pm

£569.99pm

Call Us

View

details

SPRINTER 319CDI MEDIUM DIESEL

3.5t Super High Roof Van 7G-Tronic

Call Us

£772.99pm

£800.99pm

£626.99pm

£669.99pm

£539.99pm

£593.99pm

Call Us

View

details

SPRINTER 319CDI LONG DIESEL

3.5t BlueEFF Super High Roof Van 7G-Tronic

Call Us

£762.99pm

£788.99pm

£622.99pm

£663.99pm

£539.99pm

£587.99pm

Call Us

View

details

SPRINTER 319CDI EXTRA LONG DIESEL

3.5t Super High Roof Van

Call Us

£774.99pm

£794.99pm

£626.99pm

£664.99pm

£539.99pm

£589.99pm

Call Us

View

details

SPRINTER 319CDI SHORT DIESEL

3.5t Crew Cab Dropside 7G-Tronic

Call Us

£778.99pm

£769.99pm

£629.99pm

£656.99pm

£541.99pm

£580.99pm

Call Us

View

details

SPRINTER 319CDI EXTRA LONG DIESEL

3.5t BlueEFFICIENCY Super High Roof Van

Call Us

£779.99pm

£800.99pm

£631.99pm

£669.99pm

£542.99pm

£589.99pm

Call Us

View

details

SPRINTER 319CDI SHORT DIESEL

3.5t BlueEFF Crew Cab Dropside 7G-Tronic

Call Us

£787.99pm

£776.99pm

£635.99pm

£662.99pm

£546.99pm

£585.99pm

Call Us

View

details

SPRINTER 319CDI LONG DIESEL

3.5t Crew Cab Dropside 7G-Tronic

Call Us

£766.99pm

£751.99pm

£630.99pm

£650.99pm

£548.99pm

£581.99pm

Call Us

View

details

SPRINTER 319CDI MEDIUM DIESEL

3.5t Crew Cab Dropside 7G-Tronic

Call Us

£777.99pm

£776.99pm

£634.99pm

£663.99pm

£549.99pm

£587.99pm

Call Us

View

details

SPRINTER 319CDI MEDIUM DIESEL

3.5t BlueEFF Super High Roof Van 7G-Tronic

Call Us

£796.99pm

£807.99pm

£641.99pm

£675.99pm

£550.99pm

£593.99pm

Call Us

View

details

SPRINTER 319CDI MEDIUM DIESEL

3.5t BlueEFF Crew Cab Dropside 7G-Tronic

Call Us

£786.99pm

£782.99pm

£639.99pm

£668.99pm

£553.99pm

£592.99pm

Call Us

View

details

SPRINTER 319CDI LONG DIESEL

3.5t BlueEFF Crew Cab Dropside 7G-Tronic

Call Us

£779.99pm

£763.99pm

£639.99pm

£659.99pm

£556.99pm

£589.99pm

Call Us

View

details

SPRINTER 319CDI EXTRA LONG DIESEL

3.5t Super High Roof Van 7G-Tronic

Call Us

£801.99pm

£822.99pm

£648.99pm

£688.99pm

£557.99pm

£605.99pm

Call Us

View

details

SPRINTER 319CDI EXTRA LONG DIESEL

3.5t BlueEFF Super High Roof Van 7G-Tronic

Call Us

£806.99pm

£828.99pm

£652.99pm

£693.99pm

£561.99pm

£610.99pm

Call Us

View

details

SPRINTER TOURER LONG DIESEL

514CDI TL17 17-Seater High Roof

Call Us

£866.99pm

£768.99pm

£687.99pm

£661.99pm

£583.99pm

£591.99pm

Call Us

View

details

SPRINTER TOURER LONG DIESEL

516CDI TL17 17-Seater High Roof

Call Us

£932.99pm

£773.99pm

£771.99pm

£667.99pm

£671.99pm

£597.99pm

Call Us

View

details

SPRINTER TOURER LONG DIESEL

514CDI TL17 17-Seater H/Rf 7G-Tronic

Call Us

£956.99pm

£793.99pm

£790.99pm

£682.99pm

£686.99pm

£611.99pm

Call Us

View

details

SPRINTER TOURER EXTRA LONG DIESEL

514CDI TL17 17-Seater High Roof

Call Us

£971.99pm

£802.99pm

£799.99pm

£690.99pm

£693.99pm

£616.99pm

Call Us

View

details

SPRINTER TOURER LONG DIESEL

516CDI TL17 17-Seater H/Rf 7G-Tronic

Call Us

£963.99pm

£799.99pm

£797.99pm

£690.99pm

£694.99pm

£617.99pm

Call Us

View

details

SPRINTER TOURER EXTRA LONG DIESEL

516CDI TL17 17-Seater High Roof

Call Us

£978.99pm

£809.99pm

£806.99pm

£697.99pm

£700.99pm

£623.99pm

Call Us

View

details

SPRINTER TOURER EXTRA LONG DIESEL

514CDI TL17 17-Seater H/Rf 7G-Tronic

Call Us

£1000.99pm

£826.99pm

£823.99pm

£711.99pm

£714.99pm

£636.99pm

Call Us

View

details

SPRINTER TOURER EXTRA LONG DIESEL

516CDI TL17 17-Seater H/Rf 7G-Tronic

Call Us

£1008.99pm

£835.99pm

£831.99pm

£720.99pm

£723.99pm

£642.99pm

Call Us

View

details

SPRINTER TOURER LONG DIESEL

519CDI TL17 17-Seater High Roof

Call Us

£1031.99pm

£851.99pm

£847.99pm

£730.99pm

£732.99pm

£650.99pm

Call Us

View

details

SPRINTER TOURER LONG DIESEL

519CDI TL17 17-Seater H/Rf 7G-Tronic

Call Us

£1062.99pm

£876.99pm

£872.99pm

£751.99pm

£754.99pm

£670.99pm

Call Us

View

details

SPRINTER TOURER EXTRA LONG DIESEL

519CDI TL17 17-Seater High Roof

Call Us

£1086.99pm

£891.99pm

£887.99pm

£762.99pm

£765.99pm

£678.99pm

Call Us

View

details

SPRINTER TOURER EXTRA LONG DIESEL

519CDI TL17 17-Seater H/Rf 7G-Tronic

Call Us

£1105.99pm

£909.99pm

£906.99pm

£780.99pm

£783.99pm

£694.99pm

Call Us

View

details

SPRINTER 214CDI L1 DIESEL FWD

3.0t Chassis Cab 9G-Tronic

Call Us

£427.99pm

Call Us

£361.99pm

Call Us

£321.99pm

Call Us

Call Us

View

details

SPRINTER 314CDI L1 DIESEL FWD

3.5t Chassis Cab

Call Us

£418.99pm

Call Us

£359.99pm

Call Us

£322.99pm

Call Us

Call Us

View

details

SPRINTER 216CDI SHORT DIESEL

3.0t Chassis Cab

Call Us

£487.99pm

Call Us

£400.99pm

Call Us

£349.99pm

Call Us

Call Us

View

details

SPRINTER 311CDI L2 DIESEL FWD

3.5t Chassis Cab 9G-Tronic

Call Us

£469.99pm

Call Us

£398.99pm

Call Us

£353.99pm

Call Us

Call Us

View

details

SPRINTER 216CDI SHORT DIESEL

3.0t BlueEFFICIENCY Chassis Cab

Call Us

£507.99pm

Call Us

£414.99pm

Call Us

£361.99pm

Call Us

Call Us

View

details

SPRINTER 314CDI L2 DIESEL RWD

3.5t Chassis Cab

Call Us

£483.99pm

Call Us

£408.99pm

Call Us

£361.99pm

Call Us

Call Us

View

details

SPRINTER 314CDI L3 DIESEL RWD

3.5t Chassis Cab

Call Us

£487.99pm

Call Us

£413.99pm

Call Us

£366.99pm

Call Us

Call Us

View

details

SPRINTER 211CDI MEDIUM DIESEL

3.0t BlueEFFICIENCY Chassis Cab

Call Us

£521.99pm

Call Us

£422.99pm

Call Us

£366.99pm

Call Us

Call Us

View

details

SPRINTER 316CDI L2 DIESEL RWD

3.5t Chassis Cab 7G-Tronic

Call Us

£504.99pm

Call Us

£427.99pm

Call Us

£379.99pm

Call Us

Call Us

View

details

SPRINTER 316CDI L1 DIESEL RWD

3.5t Crew Cab

Call Us

£513.99pm

Call Us

£433.99pm

Call Us

£384.99pm

Call Us

Call Us

View

details

SPRINTER 311CDI L3 DIESEL RWD

3.5t Chassis Cab 7G-Tronic

Call Us

£518.99pm

Call Us

£437.99pm

Call Us

£386.99pm

Call Us

Call Us

View

details

SPRINTER 316CDI L3 DIESEL RWD

3.5t Chassis Cab 7G-Tronic

Call Us

£511.99pm

Call Us

£433.99pm

Call Us

£386.99pm

Call Us

Call Us

View

details

SPRINTER 316CDI L3 DIESEL RWD

3.5t Crew Cab

Call Us

£532.99pm

Call Us

£449.99pm

Call Us

£398.99pm

Call Us

Call Us

View

details

SPRINTER 314CDI L2 DIESEL RWD

3.5t Crew Cab 7G-Tronic

Call Us

£534.99pm

Call Us

£451.99pm

Call Us

£399.99pm

Call Us

Call Us

View

details

SPRINTER 314CDI SHORT DIESEL

3.5t Chassis Cab

Call Us

£566.99pm

Call Us

£464.99pm

Call Us

£403.99pm

Call Us

Call Us

View

details

SPRINTER 311CDI L3 DIESEL RWD

3.5t Crew Cab 7G-Tronic

Call Us

£545.99pm

Call Us

£458.99pm

Call Us

£406.99pm

Call Us

Call Us

View

details

SPRINTER 316CDI L3 DIESEL RWD

3.5t Crew Cab 7G-Tronic

Call Us

£549.99pm

Call Us

£464.99pm

Call Us

£413.99pm

Call Us

Call Us

View

details

SPRINTER 314CDI SHORT DIESEL

3.5t BlueEFFICIENCY Chassis Cab

Call Us

£585.99pm

Call Us

£478.99pm

Call Us

£414.99pm

Call Us

Call Us

View

details

SPRINTER 319CDI L2 DIESEL RWD

3.5t Chassis Cab 7G-Tronic

Call Us

£569.99pm

Call Us

£477.99pm

Call Us

£421.99pm

Call Us

Call Us

View

details

SPRINTER 314CDI MEDIUM DIESEL

3.5t BlueEFFICIENCY Chassis Cab

Call Us

£598.99pm

Call Us

£488.99pm

Call Us

£423.99pm

Call Us

Call Us

View

details

SPRINTER 314CDI SHORT DIESEL

3.5t Chassis Cab 7G-Tronic

Call Us

£612.99pm

Call Us

£498.99pm

Call Us

£430.99pm

Call Us

Call Us

View

details

SPRINTER 311CDI SHORT DIESEL

3.5t Crew Cab

Call Us

£610.99pm

Call Us

£498.99pm

Call Us

£431.99pm

Call Us

Call Us

View

details

SPRINTER 316CDI LONG DIESEL

3.5t Chassis Cab

Call Us

£600.99pm

Call Us

£495.99pm

Call Us

£432.99pm

Call Us

Call Us

View

details

SPRINTER TOURER SHORT DIESEL

316CDI BlueEFFICIENCY TL7 7-Seater

Call Us

£566.99pm

Call Us

£489.99pm

Call Us

£432.99pm

Call Us

Call Us

View

details

SPRINTER 311CDI MEDIUM DIESEL

3.5t Chassis Cab 7G-Tronic

Call Us

£620.99pm

Call Us

£504.99pm

Call Us

£434.99pm

Call Us

Call Us

View

details

SPRINTER 311CDI MEDIUM DIESEL

3.5t Crew Cab

Call Us

£623.99pm

Call Us

£508.99pm

Call Us

£439.99pm

Call Us

Call Us

View

details

SPRINTER 311CDI SHORT DIESEL

3.5t BlueEFFICIENCY Crew Cab

Call Us

£628.99pm

Call Us

£511.99pm

Call Us

£442.99pm

Call Us

Call Us

View

details

SPRINTER 314CDI LONG DIESEL

3.5t Chassis Cab 7G-Tronic

Call Us

£625.99pm

Call Us

£511.99pm

Call Us

£442.99pm

Call Us

Call Us

View

details

SPRINTER 311CDI LONG DIESEL

3.5t Chassis Cab 7G-Tronic

Call Us

£628.99pm

Call Us

£512.99pm

Call Us

£444.99pm

Call Us

Call Us

View

details

SPRINTER 319CDI L2 DIESEL RWD

3.5t Crew Cab 7G-Tronic

Call Us

£607.99pm

Call Us

£508.99pm

Call Us

£448.99pm

Call Us

Call Us

View

details

SPRINTER 311CDI LONG DIESEL

3.5t Crew Cab

Call Us

£636.99pm

Call Us

£518.99pm

Call Us

£449.99pm

Call Us

Call Us

View

details

SPRINTER 314CDI SHORT DIESEL

3.5t BlueEFFICIENCY Crew Cab

Call Us

£646.99pm

Call Us

£524.99pm

Call Us

£451.99pm

Call Us

Call Us

View

details

SPRINTER 316CDI LONG DIESEL

3.5t Chassis Cab 7G-Tronic

Call Us

£629.99pm

Call Us

£518.99pm

Call Us

£451.99pm

Call Us

Call Us

View

details

SPRINTER 314CDI MEDIUM DIESEL

3.5t BlueEFFICIENCY Crew Cab

Call Us

£642.99pm

Call Us

£524.99pm

Call Us

£453.99pm

Call Us

Call Us

View

details

SPRINTER 314CDI SHORT DIESEL

3.5t Crew Cab 7G-Tronic

Call Us

£655.99pm

Call Us

£532.99pm

Call Us

£459.99pm

Call Us

Call Us

View

details

SPRINTER 319CDI SHORT DIESEL

3.5t Chassis Cab

Call Us

£683.99pm

Call Us

£551.99pm

Call Us

£472.99pm

Call Us

Call Us

View

details