Volkswagen T-Cross Revealed
1st Nov 2018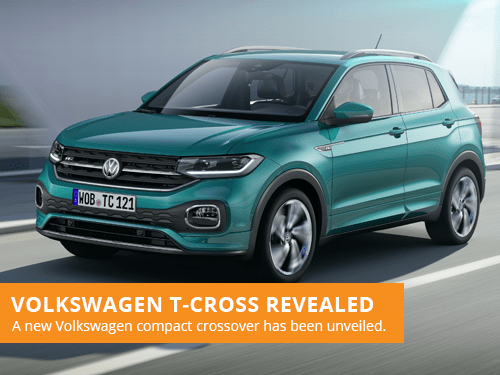 Volkswagen have revealed an all-new model in their range, with a compact crossover called the T-Cross recently debuting the model in Europe.
The Volkswagen T-Cross has been revealed in Europe, as the smallest SUV in the brands range. The new T-Cross shares a lot with other models in the wider VW family with the small SUV built on the same MQB platform as the Volkswagen Polo, Audi A1, Seat Ibizia and Seat Arona. It also shares a lot of the same design cues as the larger Volkswagen T-Roc, though much more compact in dimensions, measuring in at only 4.11 metres long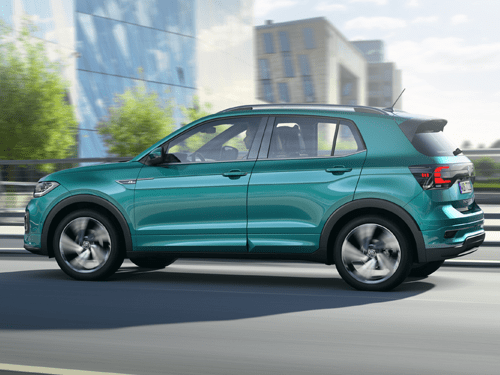 At launch the Volkswagen T-Cross will be available with two versions of a 1.0-litre TSI petrol engine with 94bhp or 113bhp output. Either engine can be paired with a five speed manual, six speed manual or seven-speed DSG automatic transmission. In the future a 1.6-litre diesel engine with 94bhp and a 1.5-litre petrol engine with 148bhp will be made available, though it is unconfirmed at this time if they will make their way to Britain.
The interior of the Volkswagen T-Cross has been made with practicality in mind, with rear seats that can slide to offer more cargo room. When sliding on position the cargo space can increase from 385 litres to 455 litres, with the option to fold them down entirely for a generous cargo space of 1,281 litres. There is even a cost option available to fold the front passenger seat too, if any extra luggage space is required.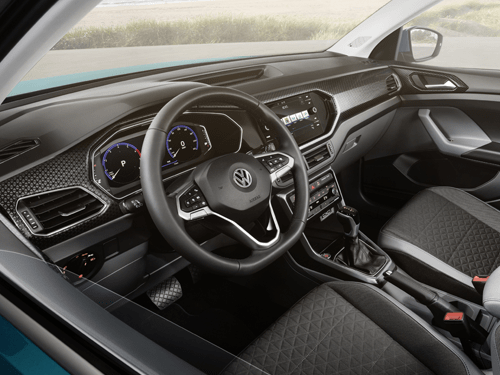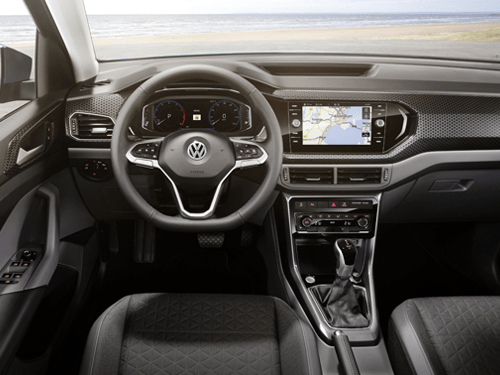 A wide range of safety equipment is included as standard including lane departure warning, blind spot monitoring and anti-collision system with pedestrian detection. Base specification includes a few features such as radio, power windows and a height-adjustable driver's seat. The Life trim level adds more with front and rear parking sensors and air con, whilst the Style adds ambient lighting, automatic climate control and more.
Other cost options include a digital instrument panel that resides behind the steering wheel, an 8-inch touchscreen infotainment system (as per the above images), keyless start, adaptive cruise control, high-beam assist and a Beats sound system. The new Volkswagen T-Cross will be available to lease t the start of the new year, with list prices expected to start from around £17,000 for the base model.
Summary:
The new Volkswagen T-Cross will be available to lease from January onwards. If you are looking to lease a Volkswagen, take a look at our offers. With over 36 years of leasing experience, we are one of the most established brokers in the industry. Our leasing advisors focus on providing great customer service over our own profits, with a consultative approach to vehicle leasing.