Nissan Qashqai With ProPILOT
3rd Apr 2018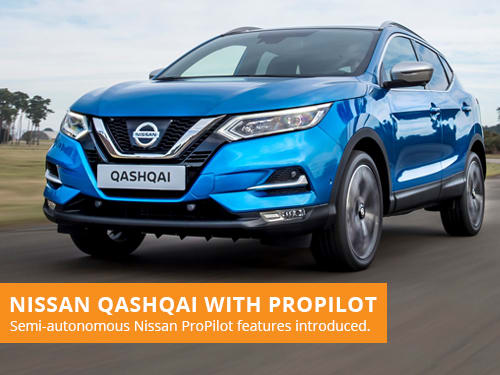 Nissan have introduced ProPILOT, the brands advanced semi-autonomous system, in the UK for the first time now available in the Nissan Qashqai.
A recent announcement from Nissan has revealed that their advanced ProPILOT system will be made available in the UK. The technology allows enables semi-autonomous driving including acceleration, steering and braking of the Qashqai on single lane roads. The ProPILOT system is paired with automatic gearboxes, though manual vehicles can be equipped a Driver Assist Pack with the same features minus start/stopping.
In a press release, Ryan Gains (General Manager, Crossovers - Nissan Europe) was quoted saying that "The addition of ProPILOT will underpin and strengthen the Qashqai's position as Europe's number one crossover." For a full preview of what the ProPILOT system is capable of, take a look at the below demonstration video:
To coincide with the UK launch of the ProPILOT system, Nissan have taken things one step further, announcing a special Pilot One Edition of the Qashqai. The new trim level is based on the existing top of the line Tekna+ and will feature the ProPILOT system as standard. Pilot One Edition will also come with Storm White Pearlescent body colour, Premium Plum Nappa Leather Interior, Xtronic Sports Pedals and Chrome Exterior Styling.
Summary:
The Nissan Qashqai with ProPILOT system will soon to be available to lease. If you are looking to lease a Nissan, take a look at our offers. With over 36 years of leasing experience, we are one of the most established brokers in the industry. Our leasing consultants focus on providing great customer service, with a flexible and consultative approach to vehicle leasing.