Monday Motivation: 2020 Tesla Roadster
9th Jul 2018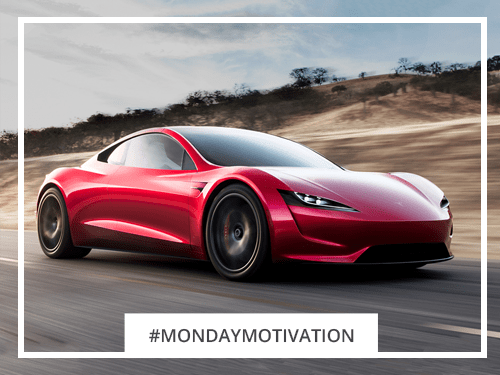 The fastest production car to ever be made - breaking records for acceleration, range and performance - the stunning 2020 Tesla Roadster.
Just in case you needed some extra motivation this week, take a look at the 2020 Tesla Roadster. Not only is the upcoming the fastest car to ever be produced, it is also arguably one of the best looking models in recent times. If that was not enough, the Roadster is also the first supercar to achieve such remarkable performance, whilst still offering seats enough room for two passengers in the rear seats.

Performance figures are outstanding with 0-60mph achieved in an insane 1.9 seconds, with a top speed of over 250 miles per hour. Elon Musk has gone as far to say these claims are conservative, and has recently even suggested an optional SpaceX package that will replace the back seats with small rocket thrusters. A new 200kWh battery pack is also being developed, offering over 600 miles range in a single charge.

Summary:
The new Tesla Roadster is a dream supercar, expect more information about it in the coming months. If you are looking to lease a Tesla, take a look at our offers. With over 36 years of leasing experience, we are one of the most established brokers in the industry. Our leasing consultants focus on providing great customer service over our own profits, with a flexible and consultative approach to vehicle leasing.