MG X-Motion Concept Revealed
26th Apr 2018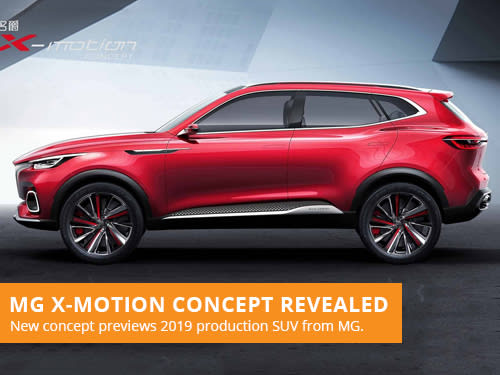 MG Motors have revealed a new concept at the Beijing Motor Show, previewing their next production SUV, the MG X-Motion Concept.
At this years Beijing Motor Show, MG Motors have revealed their latest concept, a large SUV concept called the X-Motion. The new model takes inspiration from the brands previous concept a fully electric sports car named the MG E-Motion. The sharp new model previews a production variant from the brand which will be available next year.
The new concept features many striking design with a bold chrome grille design flanked by modern slimline headlights either side. Air intakes below the contemporary headlights are also surraounded with illumination in their own right. A muscular hood with strong linework blends into a sweeping roofline, whilst the rear of the vehicle also benefits from distinctive tail lights.
Plenty of advanced technology also features in the X-Motion Concept. Futuristic features include inter-car communication. intelligence and information sharing and an all-electric powertrain. Whilst there is no official confirmation of a production variant or interior shots at this point in time, head of sales and marketing at MG Motors said that the design language will be sure to make its way to future vehicles in the UK market.
Summary:
Expect a full article on any future production version of the MG SUV. If you are looking to lease a MG Motor, take a look at our offers. With over 36 years of leasing experience, we are one of the most established brokers in the industry. Our leasing consultants focus on providing great customer service over our own profits, with a flexible and consultative approach to vehicle leasing.