Mercedes-Benz X-Class Review
16th May 2018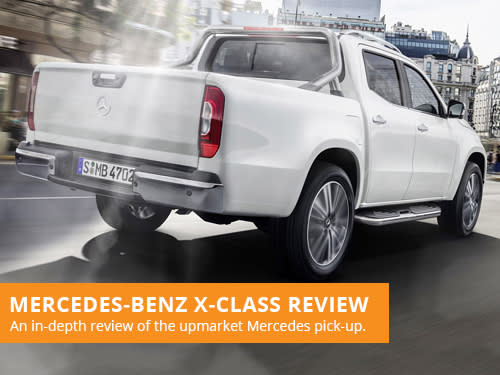 In our latest review we take a look at the upmarket Mercedes-Benz X-Class pickup, a model that aims to disrupt the premium pickup market.
Mercedes-Benz upset the apple cart last summer when they revealed their high-end X Class pickup. Whilst other manufacturers have produced highly acclaimed models, Mercedes looked to set a new bar for how luxurious a pick up could be. The X-Class is a unique premise in that sense, benefiting from the renown style and unrivalled interior quality that Mercedes offer, without any sacrifice of practicality.
Overview:
The Mercedes X-Class is built in partnership with Renault-Nissan to some extent. Similar engineering processes and parts that build the foundation of the X-Class are utilised in the Nissan Navara. The pick up however stands out from the crowd with Mercedes signature exterior style, with clear inspiration from their passenger cars. Most specifically, the front end is comparable with the highly fashionable Mercedes GLS.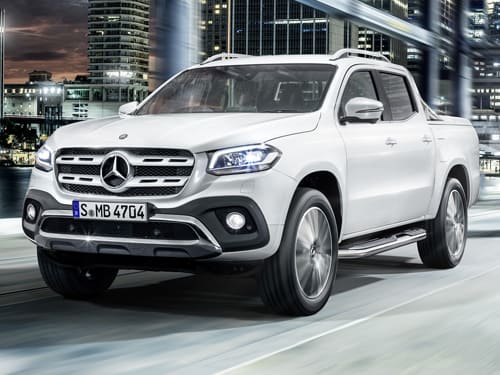 Other features that are traditionally found in the brands passenger cars are also included. This is highlighted by the generous list of available equipment including the latest technology and smartphone connectivity. More than just usual multimedia functions, drivers can actually remotely check the location or fuel levels of their truck. All of the usual Mercedes top-end features are here, whilst remaining a highly practical truck.
Performance:
The X-Class is available with either a 220d or 250d diesel engine, both utilising a 2.3-litre diesel engine. The 220d develops 165 horsepower, whilst the 250d uses twin-turbocharges to produce 190bhp. Either engine is available as a rear-wheel drive or all-wheel drive. The engine can be paired with a six-speed manual or a seven-speed automatic transmission.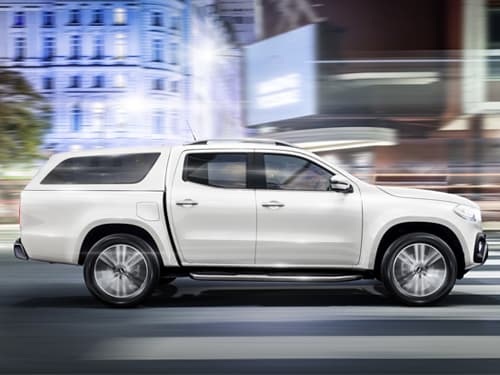 A class-leading 350d variant will also be available with a V6 engine developing 258 horsepower. This will be class leading both in terms of power and torque. Mercedes have also ensured that the X-Class is not just one of the most powerful, but one of the most refined trucks available. As such, handling is peerless in this market with superb body control.
Interior:
Mercedes interior design for the X-Class however maybe the most remarkable feature, with the truck benefiting from the brands most recent cabin designs. This includes a high-tech infotainment system at the centre of the dashboard, flanked by modern air vents. Elsewhere, high grade materials (usually reserved for use in passenger cars) feature across the dashboard and steering wheel.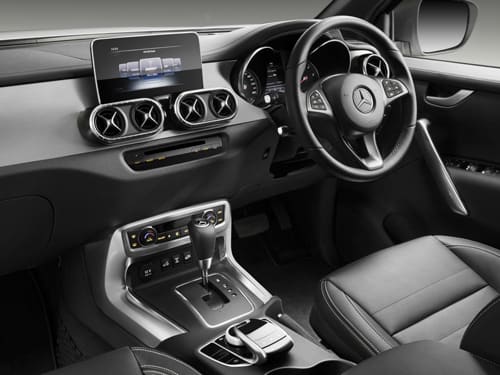 The amount of standard equipment on offer is also astounding with all X-Class models featuring the 7-inch screen, Bluetooth, DAB radio, reverse camera and pre-installation for Garmin route guidance. Several configurations and additional options are available, making the X-Class the highest specification in any pick up. There is also ample space for all occupants both in terms of head and legroom.
Summary:
The Mercedes-Benz X-Class is now available to lease. If you are looking to lease a Mercedes, take a look at our offers. With over 36 years of leasing experience, we are one of the most established brokers in the industry. Our leasing consultants focus on providing great customer service over our own profits, with a flexible and consultative approach to vehicle leasing.