First 2019 Audi A1 Teaser
12th Jun 2018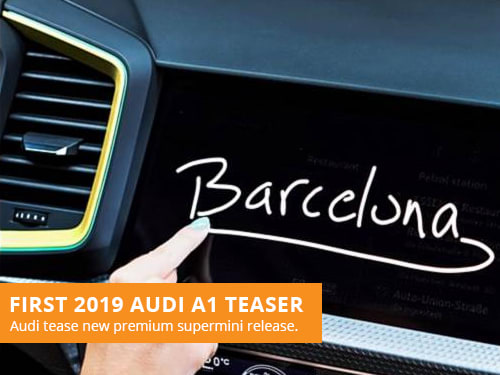 Audi have revealed their first teaser for their upcoming premium supermini, the 2019 Audi A1, showcasing their new MMI infotainment system.
After an extensive campaign teasing the reveal of the Q8, the Audi marketing machine now moves to the other end of the spectrum, releasing the first preview of the 2019 A1. A brief animation was published to Audi social media channels, showing the central section of the cabin where the new MMI Touch infotainment system resides. Barcelona is handwritten across the display, all but confirming a location for the full reveal.
Think digital – the all new #Audi #A1 with virtual cockpit and MMI touch display. #TheNewAudiA1 #EpicModeOn pic.twitter.com/n83opaq1JP

— AUDI AG (@Audi_Press) June 11, 2018
Like other higher end Audi models that utilise the MMI Touch system, the A1 will also offer the Audi Virtual Cockpit digital instrument panel behind the steering wheel. To differentiate from the more premium models which feature a third touchscreen, physical controls are used for climate control. The expected result is that the Audi A1 will have much more upmarket interior, with advanced technology.
No official exterior images for the Audi A1 have been revealed at the time of writing, though spy shots indicate that it will represent the brands latest design language. This includes a much more prominent grille, LED headlights and elegant bodywork. The model will be revealed in full at a global reveal event in Barcelona latest this year, with production moving from Brussels to Spain.
Summary:
If you are looking to lease a Audi, take a look at our offers. With over 36 years of leasing experience, we are one of the most established brokers in the industry. Our leasing consultants focus on providing great customer service over our own profits, with a flexible and consultative approach to vehicle leasing.