AT35 Arctic Trucks
10th May 2018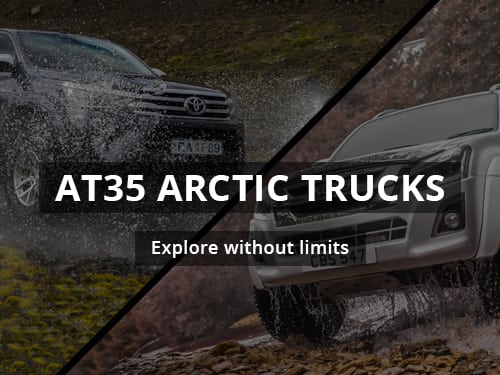 We take a closer look at two Arctic Trucks that recently visited our offices - the Toyota Hilux AT35 and Isuzu D-Max AT35 - built for exploration.
The Toyota Hilux AT35 and Isuzu D-Max AT35 are both Arctic Trucks that are built to conquer all kinds of terrain with a greater on-road presence. Arctic Trucks have pushed the limits of the Hilux and the D-Max further than ever before, re-engineering the models to achieve a comfortable driving experience regardless of where you explore. Both models recently visited our office, so we have taken a closer look into each.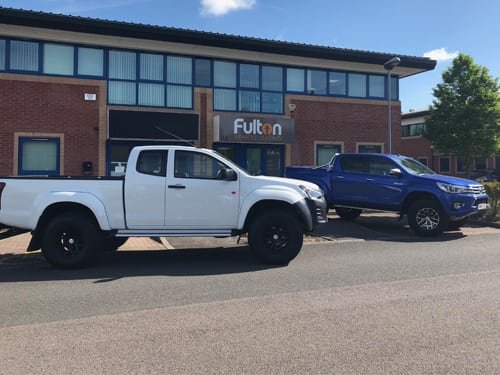 Toyota Hilux AT35:
The Toyota Hilux AT35 is the most capable version of the pick-up available , with Arctic Trucks engineering the pick-up truck to handle even the most extreme of conditions. With 32-inch tyres, optimised suspensions, under-body protection and more - the Toyota Hilux AT35 is capable of conquering any landscape.
Arctic Trucks have taken the innovative 5-link rear suspension from Nissan a step further. The Arctic Trucks Performance suspension delivers a more refined drive and greater suspension flexibility with an increased ride height offering great visibility. Elsewhere a Front Differential Locker is fitted, and combined with the original Navara Rear Differential Locker rewarding the driver with confidence to challenge the toughest terrain.
Another unique feature to the AT35 is the under-body protection made of high-grade steel that protects the engine, gearbox and fuel tank. The large 32-inch off-road tyres are also stand out not only for their enhanced off-road style but also the enhanced control on and off-road. Elsewhere sidestep, receiver hitch and mudguards complete the rugged look of the Arctic Hilux, whilst offering greater practicality and versatility.
Isuzu D-Max AT35:
The Isuzu D-Max Arctic Trucks AT35 is truly built to handle the toughest off-road terrains. Much like the Hilux, the Isuzu D-Max AT35 has been engineered for reliability regardless of the conditions. This includes the addition of a Fox performance series suspension and 35-inch Nokian Rotiiva tyres for greater performance and prominent road presence. The interior also benefits from upmarket leather materials for comfort experience.
Summary:
If you are looking to lease an Arctic Truck, take a look at our offers. With over 36 years of leasing experience, we are one of the most established brokers in the industry. Our leasing consultants focus on providing great customer service over our own profits, with a flexible and consultative approach to vehicle leasing.