2019 Ford Raptor Ranger
8th Feb 2018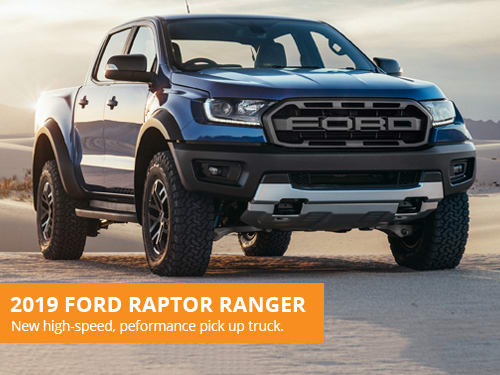 Ford announced a new off-road performance version of their acclaimed pick up, the Ford Raptor Ranger, initially headed to Asia Pacific region.
The new model was revealed at a press conference in Thailand, offering a wide range of performance-based improvements to the existing Ford Ranger. Whilst the model announced is intended for the Asia Pacific market, it is understood that Ford UK are very interested in making the new variant available in the country.
It is clear however, that the Ford Performance team in charge of the new model, have not just added additional power. There are numerous changes made to the exterior. The most apparent is the new grille design, whilst the pick up also is a lot more prominent with greater air ground clearance. New materials have also been used for the front bumpers to withstand the more trying off-road journeys.
There have also been further upgrades to the construction of the Raptor ensuring optimum driveability at the higher-speeds the new Ranger is capable of. The chassis has been tweaked with a more durable and stiff frame whilst the suspension has been developed to manage the toughest off-road terrain at speed adeptly. Tyres have been developed to deal with mud, snow and sand in mind whilst brakes also receive an upgrade.
The interior cabin also receives special features, including Raptor seats with special bolstering for more demanding driving. Raptor branding also features on the seats, whilst the top of the steering wheel also receives the a more subdued logo on a red stripe. The sat nav has a smart feature tailored to off-road driving, allowing users to leave a trail behind on the map to allow drivers to retrace their path back onto a more familiar path.
All of these are great improvements, tailored for the new power under the hood. A 2.0-liter twin-turbo diesel engine features developing 210bhp and 500Nm of torque, using the same ten-speed automatic gearbox as the larger F-150 Raptor. The drivers also has the choice of six different mode including profiles tailored for on-road and off-road usage.
Summary:

While there has been no official word of a UK release, the model has the potential to be released over here. Be sure to keep an eye out on our social channels for a full article as more information may release. If you are interested in leasing a Ford Ranger, take a look at out offers. With over 36 years of leasing experience, we are one of the more established brokers in the industry.