2018 Ford Fiesta Van Revealed
26th Apr 2018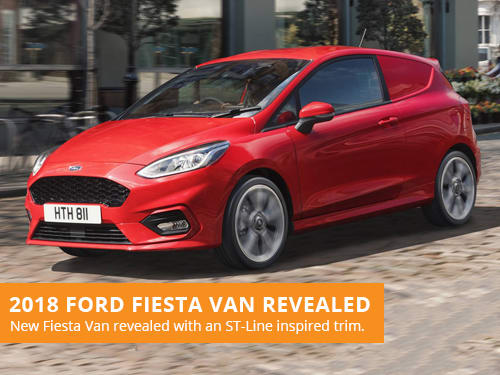 Ford have revealed their latest and most technologically advanced version of the Ford Fiesta Van, with a athletic ST-Line inspired trim available.
The 2018 Fiesta Van has been revealed at the Commercial Vehicle Show in Birmingham. At the entry level of Ford's commercial line, the Ford Fiesta removes the passenger cars rear seats and windows to make room for a 1,000-litre cargo bay with 1.3-mitres of load length. The latest variant has now been unveiled with the latest Ford technology and a sporty ST-Line inspired trim level.
Taking a closer look at the Fiesta Sport Van it is clear to see design cues borrowed from the traditional models ST-Line. Front and rear bumpers feature, whilst the rear spoiler is identical to the one used in the Fiesta ST-Line. The Fiesta Sport van also sits on 18-inch alloy wheels, whilst the interior benefits from new sport seats.
The interior of the new Fiesta Van is perhaps the highlight, with the most advanced Ford technology available. This includes Ford's Sync 3 infotainment system hosted on a central touchscreen. Connectivity options are plenty with Apple CarPlay and Android Auto compatibility. AppLink is also available, enabling third party satellite navigation apps like Waze to utilise the 8-inch screen.
It also benefits from FordPass Connect, the brands latest technology which acts as a wireless hotspot for up to 10 devices. It also connects to a mobile application where owners can view the vehicles condition, location and even lock or unlock remotely. A 1.0-litre EcoBoost petrol engine outputting 123bhp will be offered alongside a 1.5 litre diesel with 118bhp.
Summary:
Availability and rates have to be confirmed at the time of this article. If you are looking to lease a Ford Van, take a look at our current offers. With over 36 years of leasing experience, we are one of the most established brokers in the industry. Our leasing consultants focus on providing great customer service over our own profits, with a flexible and consultative approach to vehicle leasing.